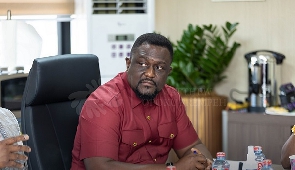 The Managing Director for the Electricity Company of Ghana, Samuel Dubik Mahama, has noted that it is a criminal offense to engage in power theft.
According to him, perpetrators will be prosecuted when they are caught even if they pay for the amount they owe.

Recently the managers of the Hillburi Hotel in Aburi in the Eastern Region were caught for alleged power theft.

According to officials of the Electricity Company of Ghana, the hotel has been operating with illegal connections for years until ECG engineers uncovered the unauthorized connection during a search of the premises of the hotel.

They have therefore been arraigned for court on April 1.

"I strongly believe what is due the company should come back to the company, but the prosecution side of the matter must take its course. It's a criminal offense, so if I prosecute you and it's a criminal offense you're going to jail.
"So, I should sue and go to court today it will take how long to recoup the money with what interest? Are you saying that because that has happened and they want to give back we should forgive? Is that what you're saying? Even if you pay, we'll still prosecute you," he is quoted by myjoyonline.com

The ECG MD has noted that the owners of the hotel have been presented with the cost of the power stolen, but they will still face prosecution.

According to him, this will serve as a deterrent to other people, however, power thieves have been given a one-month ultimatum to come clean.

"Why should we stop at the fact that you've paid? Because if you stop there the next thing they'll say is 'When I'm caught, I'll pay' Then when will it stop? So that means you'll be saving for the day?" he said.

SSD/FNOQ