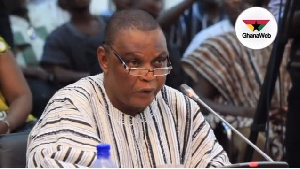 The Minister of State in charge of Agriculture, Dr. Gyiele Nurah has stated that the Planting for Foods and Jobs programme will not achieve significant increase in agricultural production without the application of science and technology in the farming system.
He said the stimulating sustained growth in agricultural production in Ghana is therefore not likely to succeed unless the agriculture sector is first energized with improved technology.

The Minister said this during a stakeholder's workshop in Kumasi on Friday March 23, 2018, involving all the Regional Ministers and their Coordinators, Regional Agriculture Coordinators, Agric Extension Officers and the media.

The workshop was to examine and discuss strategies for promoting agricultural technology adoption under the Planting for Foods Programme, which was implemented by the Nana Akufo led government in 2017.

Dr. Nurah said while many interventions are likely to lead to improvements in agriculture, agricultural technology generation and application leading to new ways of learning stands the best chance of generating significant improvements in agricultural outputs and incomes.
''The Ministry of Food and Agriculture (MoFA) has done a lot over the past one year in technology dissemination, but we believe we can always do more. We have registered farmers and distributed inputs to them. We have monitored the implementation and made several farm visits to see things for ourselves, but we are now beginning to re-examine our strategies for farmer registration, input distribution and monitoring. It is in this connection that we have invited you the policy makers, administrators/coordinators and technical directors to learn at first hand the new policy direction and to critically examine the proposed strategies for implementing the plant for food and job," he added.

The Deputy Director in charge of Crops, Mr. Seth Osei Akoto addressing the participants said the Planting for Foods and Jobs has reduced unemployment in Ghana by creating 745,000, both direct and indirect, since it started in 2017.

He numerated some of the challenges confronting the project which included the inadequate storage facility to store the harvested products, rainfall failure in some part of the country, especially the northern and other parts of Upper East and West regions and late delivery of seedlings and other planting materials to the famers.

"In adequate extension officers to educate the farmers on how to apply the fertilizers and planting of the seedlings and Army worms' invasion," he continued.