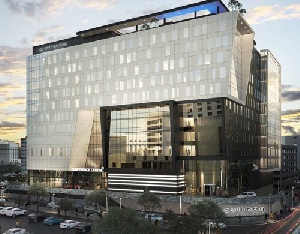 The construction of Ghana's first Pullman-branded hotel and 'Pullman Living' serviced apartments at the Accra Airport City by Platinum Properties Limited is expected to create jobs for one thousand Ghanaian workers.
At the groundbreaking event to commence construction of the Pullman Accra Airport City Hotel and Apartments, Chairman of Platinum Properties Limited and Executive Chairman of Inter-Afrique Holdings Ltd., Dr Kwame Nyantekyi-Owusu, said construction of the 100 per cent Ghanaian-owned Pullman Hotel will be completed in 2021.

He said the Pullman Accra Airport City Hotel and Apartments will feature 215 hotel rooms and suites and 149 serviced apartments under the 'Pullman Living' brand, responding to the growing demand for extended-stay accommodation in Accra.

The new-build, upper-upscale hotel is anticipated to become the major venue for conferences and events, with seven meeting rooms and dedicated banqueting facilities including an executive lounge. In addition, Pullman Accra Airport City will offer two restaurants, providing a range of international cuisines; two swimming pools with pool bars, a fitness centre, a wellness spa and lush landscaped areas.

Present at the event was President Nana Addo Dankwa Akufo-Addo, who lauded the initiative by saying: "The project is in line with my government's vision of using an appropriate mix of public policy and public-private investments to help market the country as an exciting destination for leisure, conferences, sports, health, education and cultural tourism".

He added that his government has succeeded in putting in place measures and policy initiative for creating an enabling environment for the private sector to flourish.

The president said Ghana will continue to be a great place to do business. He assured that the sector ministers will be available to address any challenges that may arise during implementation of the project.
He also advised that the laws, rules and regulations of the sector and country as a whole must be adhered to during construction of the hotel and apartments.

The groundbreaking event followed the Hotel Management Agreement signing between AccorHotels and Platinum Properties Limited on October 2, 2018. At the signing ceremony, Mark Willis, the CEO of AccorHotels for the Middle East and Africa said:

"Today's announcement marks the much-anticipated expansion of one of our most renowned upscale brands – Pullman – and signifies the start of our partnership with Dr Kwame Nyantekyi-Owusu and the Inter-Afrique Group, whom I would like to thank for their support and confidence in AccorHotels. This agreement is an important step toward expanding our network in sub-Saharan Africa and demonstrates our dedication to developing the most distinct hospitality concepts – including 'Pullman Living', our compelling extended stay solution in the premium market.

"Pullman Accra Airport City will solidify our presence in a country where we already operate an Ibis Styles as well as the Mövenpick Ambassador Hotel Accra and combined with the latter our foothold in the premium segment is reinforced with a complementary and prime location in Airport City. Moreover, this project will strengthen our brand's visibility in West Africa, where we already operate in Dakar and Abidjan and have signed a Pullman hotel in Lagos earlier this year," he concluded.

Pullman Accra Airport City is a joint development between equity partners Inter-Afrique Holdings Ltd. and the Ghana Infrastructure Investment Fund (GIIF), the private sector-focused sovereign wealth fund of Ghana with diversified interests in infrastructure and tourism.

The investing partners' interests are held through Platinum Properties Limited as the Project SPV and asset owner. The partnership is expected to lead to opening the 364-key hotel and serviced apartments, making it the largest hotel and first dual-hospitality offering in Ghana.
The development is managed by Inter-Afrique Properties Limited as development manager; Diagonal Projects Africa as project manager; with IBC Equity Partners as transaction advisor and W Hospitality Limited as hotel consultant

There are currently over 115 Pullman hotels in 33 countries worldwide, with close to 35,000 rooms. In Africa and the Middle East, Pullman accounts for 12 hotels with more than 4,000 rooms. Pullman Accra Airport City will join a range of flagship addresses worldwide, including Pullman Dakar and Pullman Abidjan.

Solomon Asamoah, CEO of GIIF said: "A principal role of GIIF is to use its US$250million anchor funds from the government of Ghana to help Ghanaian sponsors complete world-class projects in Ghana. We were therefore very happy to participate in this landmark project as equity partner for the Ghanaian sponsor, Inter-Afrique Holdings Limited, as well as support the Sponsor to mobilise the long-term financing necessary to complete the financing package".

On behalf of the Transaction Advisors, the Managing Partner of IBC Equity Partners, Anthony Siaw said: "We are honoured to be associated with this landmark hospitality Project that is poised to enhance Accra's positioning as a major destination for business and leisure. The investment partnership between Inter-Afrique Holdings and GIIF is the result of a collaborative effort between indigenous Ghanaian entities with a shared desire to develop a world-class business hotel in Accra. We are also working with the African Export-Import Bank (Afreximbank) to utilise its CONTOUR Facility to underwrite this prestigious hospitality project".