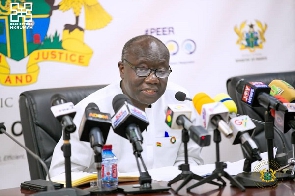 The Finance Minister, Ken Ofori-Atta, has noted that talks with Ghana's bilateral creditors are progressing in the right direction.
Ofori-Atta in a tweet on March 24, 2023, stated that the government is hopeful of securing external assurances soon.

He wrote: "So far had very positive and encouraging meetings in China! Looking forward to securing external assurances very soon, even as we pass our outstanding domestic revenue bills back home. Great progress on all fronts…#ResolvingTogether #GhanaFirst."

Finance Minister Ken Ofori-Atta left Accra for China on Sunday March 19, 2023.

Ofori-Atta's trip to Beijing is hinged on efforts to secure a deal for restructuring of Ghana's bilateral debts with the Asian economic powerhouse.

Even though Ghana is seeking a US$3 billion facility from the International Monetary Fund (IMF), the need to restructure both domestic and external debts has been given as a key conditionality.
China is a key player relative to Ghana's external debtors, holding about $1.7 billion of Ghana's $5.5 billion bilateral debt.

According to the Ghana Business News portal, the specialised nature of their lending windows means that Ghana cannot add them to the model used to negotiate with the G20 and the Paris Club members.

Talks with China were originally slated for mid-February but they were postponed to late March 2023.

Ofori-Atta, has however met with representatives of the Chinese government and its quasi-agencies in Accra since the postponement was announced.

Despite securing an IMF Staff-Level Agreement last year, government is undertaking an external restructuring of its debts in order to get a Board Level of approval later this month.
The first two months of 2023 saw a heated domestic debt restructuring programme adopted under the Domestic Debt Exchange Programme (DDEP).

Meanwhile, the Minority in Parliament insists that the government's plans to get the IMF Board approval by end of March will likely not materialize.


So far had very positive and encouraging meetings in China! Looking forward to securing external assurances very soon, even as we pass our outstanding domestic revenue bills back home. Great progress on all fronts…#ResolvingTogether #GhanaFirst

— Office of the Finance Minister-Ghana (@oofmghana) March 24, 2023
Watch the latest edition of BizTech and Biz Headlines below:






Watch the latest edition of Business Moments below:




SSD/FNOQ