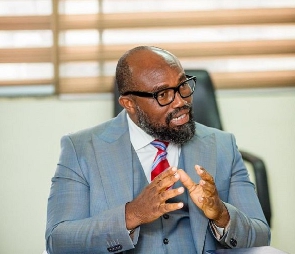 The management of Electrochem Limited, a salt mining company owned by Dr. Daniel McKorley, has reacted to claims that it owes GH¢300,000 debt to the Electricity Company of Ghana (ECG).
This comes after an exercise carried out in the Ada District by the ECG Revenue Taskforce, discovered that the company had owed power debt accrued over the years.

But the management of the company, interacting with journalists, explained that the debt situation was an inherited one after it took over the premises.

They added that the company had inherited a debt about GH¢2 million from the previous occupants of the premises – a large chuck which they indicate has been paid by Electrochem.

"All though the situation is unfortunate, we have to put on record that when we took over Songor, the lights were off for about 8 years with over GH¢2 million power debt which was inherited. We have since paid a large sum of it and want to assure that we are keen on settling all outstanding owed to the ECG," the management explained.

Meanwhile, the power distribution company said that the meters installed at the premises of Electrochem Ghana Limited, the salt-mining company, have been tampered with, forcing the ECG to cut off power supply to the company.

Prior to the disconnection exercise, the ECG taskforce also cut the power supply of some three other privately-owned businesses in the Ada District.
They include Moonlight Fresco Limited, which is a banana producing firm; and fish farming company, Frosell.

The other company, which was impacted by the exercise was Kemmat Hotel, which is said to have owed over GH¢200,000 in debt on its six power meters.

Further, the ECG on March 20, 2023, embarked on a nationwide revenue mobilisation exercise.

The company is targeting to collect a debt of about GH¢5.7 billion owed by various ministries, departments and agencies, state-owned enterprises, postpaid and prepaid customers across the country.

MA/AE