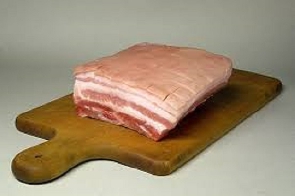 The farmgate price for pork is expected to rise by 20% from December 1 this year, the Pig Farmers Association of Ghana has announced.
According to the Association, the emergence of a high cost of production has necessitated the upward price adjustment.

According to a citinewroom.com report, the price adjustment will see a kilo of a live-weight pork move from GH¢25 to sell at GH¢30, while a kilo of carcass pork will increase from GH¢35 to GH¢45 from December 1, 2023.

This was disclosed by the President of the Pig Farmers Association of Ghana, Kwame Appiah Danquah at this year's Porktober event.

"Our new prices for the year starting December 1, 2023, are a minimum of GH¢30 per kilo for live weight and GH¢45 for carcass pork from the farm gate. I am stressing 'farm gate,' so if you go and buy it in Accra, don't expect it at that price because there will be other additional costs due to transportation and other factors that would have to be catered for," he shared.
The Association further stressed their commitment to running an improved pig farming industry in the country, hence, looking for funds to finance their work.

"The Association is actively seeking funding opportunities. This approach is aimed at striking a balance between farmers and consumers, taking into account market dynamics and production costs. The primary challenge facing pig farmers is financing. To address this issue, the association is actively exploring opportunities for input financing to facilitate access to capital to improve the pig farming industry in the country," he added.

BAJ/MA

Ghana's leading digital news platform, GhanaWeb, in conjunction with the Korle-Bu Teaching Hospital, is embarking on an aggressive campaign geared towards ensuring that parliament passes comprehensive legislation to guide organ harvesting, organ donation, and organ transplantation in the country.