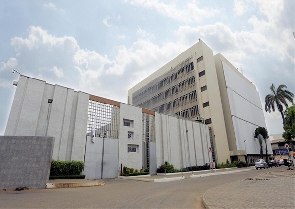 The rate of growth for credit extended to the private sector has slowed down, as a cocktail of factors – including a tight monetary policy stance, banks' portfolio rebalancing and a moderation in economic activity – have taken their toll, data from the Bank of Ghana (BoG) have shown.
Private sector credit (PSC), in nominal terms, reached GH¢64.9billion at the end of April this year – a 19.74 percent increase over the GH¢54.2billion recorded at the same time in 2022. However, the growth rate was lower than the 26.5 percent recorded during same period of the previous year.

A perusal of the data shows that, in nominal terms, the quantum of PSC stood at GH¢72.9billion, GH¢73.7billion and GH¢63.8billion in October, November and December of 2022. In the first quarter of this year, it reached GH¢67.6billion in January, GH¢65.5billion in February and GH¢65.7billion in March.

The central bank's data further revealed that, in real terms, PSC has contracted by 15.2 percent compared to 2.4 percent growth recorded during the same comparative period.

"Private sector credit generally slowed in line with the tight monetary policy stance, banks' portfolio rebalancing after the domestic debt exchange, and moderation in economic activity," Governor Ernest Addison said during a press engagement at the conclusion of the most recent Monetary Policy Committee meeting.

While average lending rates of banks have retreated marginally – at 31.66 percent in April 2023, it remains more than 1,000 basis points (bps) above the comparable period in 2022, when it was 21.61 percent; and banks have turned their attention to shorter-term Treasury instruments on account of the Domestic Debt Exchange Programme (DDEP) and elevated yields.
Moreover, the apex bank has raised its key rate by a cumulative increase of 1,450 basis points since late 2021, even as the moderation in economic activity has played a role in the decline of PSC. The overall slowdown in economic growth has led to reduced demand for credit, as businesses become more cautious about borrowing and investing in such an environment.

Already, Fitch Solutions in a commentary published in March this year predicted a slowdown in the banking industry as client loan growth is expected to ease to 18 percent in 2023 from 30.2 percent in 2022, citing the aforementioned factors.

Fitch Solutions' forecast suggests that while nominal client loan growth will still be in double digits this year, real client loan growth will be significantly weaker – anticipated to be -7.7 percent by end of the year.

While Fitch anticipates excess liquidity in the system as deposits outstrip loans, it believes this will be channeled to low-risk businesses in sectors such as mining.

"Households and firms are expected to face challenges in borrowing due to rising interest rates, but Fitch Solutions anticipates that corporate credit will grow at a faster pace than household credit. The transparency and follow-up from banks regarding firms' performance contribute to their relatively stronger creditworthiness compared to households," Fitch Solution noted.