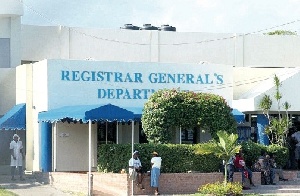 The Registrar-General's Department has generated GH?88m (88,203,521) as Internally Generated Funds (IGF) as at the end of September this year.
This was contained in the Report of the Committee on Constitutional, Legal and Parliamentary Affairs on the Annual Budget Estimates of the Office of the Attorney-General and Ministry of Justice for the 2020 financial year.

According to the report, the amount generated by the Registrar-General's Department represented 88.2 percent of the projected IGF target for the year.

Officials of the Department attributed the achievement partly to the introduction of innovations such as the One-Stop-Shop business mechanism (OSS) introduced by the Department in the course of the year.

The OSS mechanism integrates data requirement to generate Tax Identification Numbers (TIN), Business Operating Permits (BOP), registration of business and SSNIT registration all at one instance.

In spite of this achievement, officials of the Department bemoaned adverse impacts of the capping policy on its operations – obstructing its huge potential to maximise revenue generation for the state.
The Committee recommended that, based on the analyses of the enormous potential of the Department to maximise revenue generation for the state, its current IGF retention rate be raised from 16 percent to 50 percent of its 2020 IGF projection.

This, the Committee believes, would enable the Department to optimise its revenue generation potential, and enable it to implement the new Companies Act, 2019(Act 992) by operationalising the new Office of the Registrar of Companies.

Additionally, the Committee maintained that it will afford the Department needed latitude to cede a certain percentage of its retained funds to supplement the 'mother ministry' budget when necessary.

The report also revealed that 68,651 businesses have been registered as at December 2019, as well as 1,241 marriages and 650 trademarks being registered.

A total amount of GH?24m (24,233,776) has been allocated to the Department for its activitiesm, including compensation of employees, goods and services as well as capital expenditure.