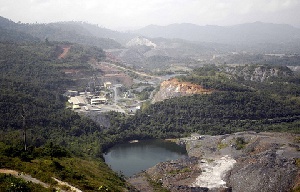 Thu, 9 Feb 2017 Source: Ghanaian Times
Illegal miners have "largely been cleared" from AngloGold Ashanti's Obuasi mine and the company can now explore a number of options for the asset including its possible sale or redevelopment, Chief Executive Srinivasan Venkatakrishnan has said. The invasion of the loss-making, mothballed operation by thousands of illegal miners made the asset a toxic one that underscored the social and political risks of mining in West Africa.
"The military have done it without any injury or loss of life," Mr. Venkatakrishnan told Reuters on the sidelines of an African mining conference in Cape Town, South Africa.

Mr. Venkatakrishnan said he had a constructive meeting in January with Ghana's new President Nana Addo Dankwa Akufo-Addo and the company was in early talks with the government about the future of the loss-making mine, where operations were closed over two years ago.

Options He said the company was now looking at three options: selling the mine or redeveloping it as a mechanised operation, with or without partners. AngloGold Ashanti currently has two wholly owned and managed operations in Ghana – Obuasi and Iduapriem. The Obuasi mine is located in the Ashanti Region, approximately 60 kilometres south of Kumasi.

Mining operations are primarily underground, to a depth of 1.5 kilometres. Some surface mining in the form of open pit and tailings reclamation occurs.

Obuasi currently treats sulphide ores from underground at the south plant, following the decommissioning of the tailings treatment plant in October 2010. The south plant also treats sulphide tailings and has a capacity of 360,000 tonnes per month.
Iduapriem mine

The Iduapriem mine, wholly owned by AngloGold Ashanti since September 2007, comprises the Iduapriem and Teberebie properties in a 110-kilometre square concession.

Iduapriem is located in the Western Region of Ghana, some 70 kilometres north of the coastal city of Takoradi and 10 kilometres south-west of the Tarkwa mine.

It is an open-pit mine and its processing facilities include a carbon-in-pulp (CIP) plant.

The mining industry of Ghana accounts for about five percent of the country's Gross Domestic Product (GDP) and minerals make up about 37 percent of total exports, of which gold contributes over 90 per cent of the total mineral exports.
Source: Ghanaian Times