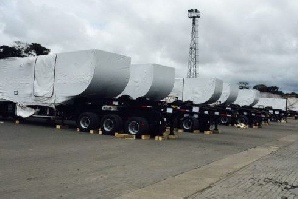 The Institute for Energy Security (IES) is scandalized by the lack of due diligence that characterizes the re-negotiated agreement between the Government of Ghana and the Africa & Middle East Resources Investment Group (AMERI Energy), and currently before the Joint Parliamentary Committees on Finance, and on Mines and Energy.
According to the IES, in its current form, the deal presented to the Joint Committees of Parliament is frost with misleading figures and inaccurate claims which may eventually line the pockets of individuals, and overburden the Ghanaian with a high cost of electricity.

The Institute for Energy Security can confidently conclude that; "the agreement is worthless, immoderate, and rather awful compared to the existing agreement signed in 2015".

On 10th February, 2015, the government of Ghana under the previous John Mahama administration represented by the then Power Ministry entered into an agreement with AMERI Energy to Build, Own, Operate and Transfer (BOOT) a Power Plant by installing 10 new GE TM 2500+ aero derivative Gas Turbines and all related equipment, including the provision of certain services related to the operation and maintenance of the Plant for 5 years to provide a guaranteed output of 230MW.

The cost of each of the 10 units of the Plant was $850,000 per month, totaling $102 million per year, and $510 million for 5 years.

It was agreed that government will own the Power Plants after the end of the 5th year.
The Government of Ghana has over the past two and half years paid an amount of $171 million to AMERI out of the $510 million.

The outstanding balance of $339 million is due to be paid over the next two and a half years.

Under a capacity charge of U.S. Cents 5.6253/KWh, the applicable tariff charge for Ghana in the first 5 years of the AMERI deal is U.S. Cents 14.5918/KWh, and from the 6th to the 20th year the tariff to apply is U.S. Cent 10.4149/KWh.

This translate into an average applicable tariff of U.S. Cent 11.4591/KWh over the 20 year period.


In a statement copied to Peacefmonline.com, The Institute for Energy Security is convinced beyond all doubts that the Novated and Amended AMERI agreement was "poorly renegotiated" if at all, and will call for the withdrawal of the entire agreement, in the supreme interest of Ghana and her taxpayers.

Parliament did not consider the amendment of the AMERI deal before its recess on Saturday.

The Majority Leader, Osei Kyei-Mensah-Bonsu explained to the media that this is because the request for further information about the deal is critical.

This follows concerns raised by some civil society groups and Minority MPs.

The Minority in Parliament asked the government to provide details on the cost of the amended AMERI agreement brought before parliament for ratification.
Senior staff of the Volta River Authority (VRA) also declared their opposition to the new arrangement on the reviewed AMERI deal.