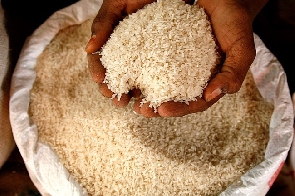 An export ban of non-basmati white rice to developing countries by India has raised concerns among stakeholders of possible rice import cuts to the country.
Last July, India – the world's largest exporter of rice – banned the export of white rice in an effort to keep domestic prices in check.

India's Food and Consumer Affairs Ministry explained that the decision was taken to ensure adequate availability in the country, and to allay rice price hikes in that country.

The price of white rice rose 11.5 percent over the past year and is still rising. India accounts for 40 percent of the world's rice trade, and the country exported a record 22.2 million tonnes last year – with a revenue of US$10.3billion from non-basmati white rice alone.

Ban's impact on emerging markets

As the decision is expected to heavily impact many developing countries around the globe, the Chamber of Agribusiness Ghana (CAG) has said several African nations including Ghana, Benin, Angola, Kenya, Ivory Coast among others – which are major buyers of non-basmati rice from India, will suffer from this ban.
CAG's CEO, Anthony Selorm Morrison, said the only choice going forward is for stakeholders to relook at deepening domestic production and consumption with less priority on imports.

"What is likely in the near future will be some shortages on the domestic market, here and in many countries of the sub-region, if India does not rescind the decision anytime soon," he said.

Data from CAG indicate that whereas Ghana imports almost 50 percent of its rice from India, Ivory Coast imports about 70 percent, while Togo and Benin import 90 percent of their consumable rice from India.

Rising rice import bill

Ghana currently produces less than 30 percent of its rice. Last year, the country spent over US$560million to import the commodity.
While total rice consumption stood at 1.4 million metric tonnes in 2022, data from IDH Sustainable Trade – a foundation headquartered in the Netherlands – has indicated that imports accounted for more than 800,000 metric tonnes (mt) of domestic consumption.

Equally, the Ministry of Food and Agriculture (MoFA) indicates that between 2010 and 2020 the country's rice import bill reached a staggering US$8billion.

Domestic production challenges

Most locally-produced rice, which constitutes about 30 percent of consumption, is grown by smallholder farmers; and with limited access to modern seeds and inputs, productivity tends to be low. Additionally, rice mills available to the typical farmer produce a large percentage of broken grains – making it difficult for small farmers to compete with high-quality imports from the Americas and Asia.