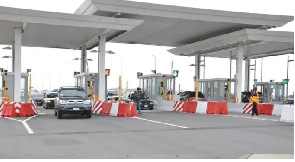 Government never cancelled nor suspended road tolls in the 2022 budget when it announced closure of all booths across the country as it introduced the Electronic Transaction Levy (E-Levy) in the same budget.
Dennis Miracles Aboagye, a presidential staffer explained on Accra-based Citi TV that the government only zero-rated the road tolls admitting that the process at the time coud have been better handled.

His explanation comes in the wake of plans for the reintroduction of the tolls according to revenue generation plans in the 2023 budget.

"Government never cancelled road tolls, the government never said it has suspended road tolls it only said that tolls had been zero-rated," he explained defending the move to reintroduce them as "well-thought."

The current decision to bring back the tolls has been sharply queried by the Minority in Parliament with a demand that will the Electronic Transaction Levy (E-Levy) for which the tolls were zero-rated would be scrapped going forward.

A leaked memo of fees that trended this week was disclaimed by the Ministry of Roads stating that consultations were ongoing on the new rates and the viral document must be disregarded as unofficial.
What Ofori-Atta said about 'Removal of Road Tolls' in 2022 budget

305. Mr Speaker, Government is currently charging tolls on some public roads to raise funds for road construction and maintenance. Over the years, however, the

tolling points have led to heavy vehicular traffic and lengthened travel time from one place to another, impacting negatively on time and productivity.

The congestion generated at the tolling points, besides creating these inconveniences, also leads to pollution in and around those vicinities.

306. To address these challenges, Government will zero-rate tolls on all public roads and bridges. This takes effect immediately the Budget is approved. The tolling points will be removed and the toll collection personnel reassigned.
It is anticipated that this Policy will help reduce congestion on the tolled roads, allow free flow of vehicles, reduce travel time and the pollution caused by emissions from vehicles in and around the tolling points. The expected impact on productivity and reduced environmental pollution will more than off-set the

revenue forgone from removing the tolls.

Watch the latest episode of The Lowdown below:



Meanwhile, catch up on the concluding part of Francis Addai-Nimoh's interview on GhanaWeb TV below:




SARA