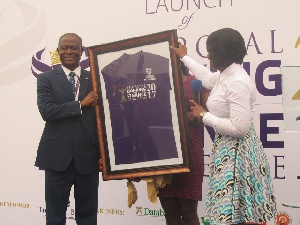 Thu, 2 Mar 2017 Source: Nii Ayi Mensah Lartey
The maiden edition of Royal Banking and Finance Challenge has been launched at the head office of Royal Bank, Accra-shiashi
The essence of the challenge is to provide undergraduate students from universities all across the country a common platform to battle it out on topical financial issues which will in the long run affect the growth of the nation positively. The Royal Banking and Finance Challenge seeks to groom a generation who will help accelerate growth in the financial service sector in country.

University Cape Coast, Kwame Nkrumah University of Science and Technology, Ghana Technology University College, Valley View University, University of Ghana, Central University, Ashesi University and Lancaster University are among the 16 schools to partake in the maiden edition of the challenge.

CEO of Royal Bank, Mr. osei Asafo-Adjie lauded the initiative and said that the challenge will provide university students the opportunity to experience the real business world before they graduate, which will in turn give them leverage and well prepared for the job market.
He stated that the bank is a direct beneficiary of university products hence the need to support capacity building activities in tertiary education. He also mentioned that the Royal Banking and Finance Challenge will address the "textbook-fieldwork gap" in tertiary institutions and industries.

Minister for Business Development, Ibrahim Mohammed Awal in his speech at the launch asserted that, this challenge and other subsequent talent hunts that government will be organizing to fish for gifted individuals in tertiary institutions and the society will produce job owners who will contribute significantly to the economic growth of the Ghana.

EDUFAIR Ghana Foundation, organizers of the Royal Banking and Financial has over the years been committed to the development of education, specifically university education in Ghana
Source: Nii Ayi Mensah Lartey