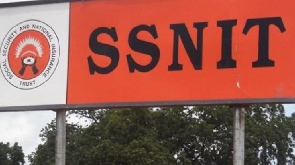 The Social Security and National Insurance Trust (SSNIT) says it has identified and deleted the names of 6,452 pensioners from its payroll.
The Director General of the Trust, Dr Ofori-Tenkorang, at a media engagement on Thursday said the exercise has saved SSNIT over 20 million cedis as at September, 2018.

"The pension payroll has been trimmed by about GHC2.7 million per month and this benefit accrues monthly to the Trust," he explained.

He had noted that the Trust was collecting less than it was paying beneficiaries, stressing that the deletion of ghost names fits into measures "to correct deficit and to arrest the fast deteriorating finances of the Trust".

The Trust therefore adopted three measures to achieve their purpose: reduce benefits payments, increase contributions and cut cost.

"Despite these cost cutting measures, we have not reneged on our responsibility of paying benefits. A total of GHC2.2 billion was paid to 189,549 pensioners and other beneficiaries in 2017 as compared to a payment of GHC1.7 billion to 174,164 pensioners and other beneficiaries in 2016. This is an increase of 29.41% of the previous year's benefit pay outs."

On improving contributions, Dr Ofori-Tenkorang said a total of 209,551 new members have been enrolled onto the scheme as at September 2018.
SSNIT has 66,000 establishments on its roll, he noted, but the Registrar General's Department has over 250,000 registered institutions.

"The trust has therefore initiated collaboration with the Registrar General's Department and the Ghana Revenue Authority to connect to their databases to get on board all active registered establishments," he Director General of SSNIT said.

He added that SSNIT is also collaborating with the National Identification Authority so that the TRUST can leverage on the Authority's platform to reduce the cost of producing new membership cards.

Touching on investment, the Director General announced that the total investment assets of the Trust as at September, 2018 was GHC9.38 billion.

"This represents a growth of 2.4% in assets value compared to the September 2017 value of GHC9.16 billion and an increase of 1.4% compared to the December 2017 value of GHC9.25 billion."