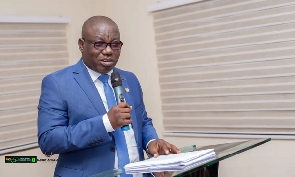 A Ranking Member of Parliament's Finance Committee, Isaac Adongo has called on government to implement innovative ways to shield the citizens from the harsh effects of the austerity measures being used to stabilize the economy.
The lawmaker for Bolgatanga Central acknowledged the necessity for fiscal consolidation to ward off inflationary pressures and to reduce debt growth to facilitate a stable economy.

He however asked that such measures should be rolled out with a human face to help reduce the risk of increasing the cost-of-living crisis facing the populace.

"There is also the challenge of making sure that the social spending floor is not breached so that the poor that will be badly affected by this consolidation are properly taken care of," he made this known in a interaction with the media at the ongoing International Monetary Fund (IMF)/World Bank Group Spring Meetings in Washington DC, USA.

To tackle high cost of doing business, higher lending rates and a weakened private sector, Isaac Adongo called on the government to complement the tight monetary regime from the Bank of Ghana (BoG) to control inflationary pressures.

After enduring fiscal pressures and general vulnerabilities for years, Ghana's economic challenges worsened from 2020 when the COVID-19 pandemic collapsed growth and spiked expenditures.

The international capital market was closed to the country in 2021 on the back of unsustainable debt levels and dwindling reserves – forcing the government back to the IMF in July last year for a 17th bailout request.
Although a staff-level agreement (SLA) has been secured, the final approval is still pending as external debt restructuring and financial assurances from the country's bilateral creditors, which are to precede the Executive Board approval, drag.

Watch the latest edition of BizTech and Biz Headlines below:







EAN/MA