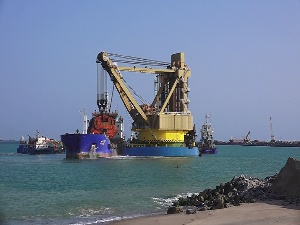 Wed, 19 Sep 2018 Source: EOP
The acting Director-General of the Ghana Ports and Harbours Authority, Michael Luguje has promised to work in close collaboration with the security agencies to make the port as secure as possible.
Michael Luguje made this known when the various security agencies in the Port paid a courtesy call on him.

"Our role is cut to be landlords and operators of the port. We don't have the capacity to build security intelligence. And as a result, we acknowledge the contribution of various stakeholders of the National Security Council of being the eye and ear of goes on in and out of our port," he stated.

He also informed them that the Authority is working with the Burkinabes to know all the genuine importers so that the issue of diversions could be curtailed, adding that an effective collaboration will only see Ghana winning at the end of the day.

According to the National security, container diversion was at its peak, but when the paperless process started it has reduced significantly.

"Unfortunately for us, we had seen reports of some who deliberately declare cargo as transit to the landlocked countries so that customs do not take duty, and once they get out of the port, they find ways to divert it back unto Ghana's economy for consumption then Ghana loses revenue. That has become a major source of concern for customs and ourselves," he lamented.
An official from the Bureau of National Investigations thanked the DG for his unifying approach to doing business.

The Joint Port Control requested for a secured yard to do container investigation to avoid the gazing eyes of the public.

The General Manager, Marketing and Corporate Affairs of GPHA, Esther Gyebi-Donkor suggested that vessels caught in bringing contrabands goods should be fined heftily to discourage others.

Director General of GPHA urges staff of security department to block all revenue leakages

In a related development, the Director General of GPHA, Michael Luguje has charged staff of the Tema Port security department to work assiduously to block all revenue leakages and increase national revenue.
During an engagement with staff of the security department, he reminded personnel that, one major attraction and advantage GPHA has over other ports in the region is its robust security.

"You have done a good job. Within the sub-region, one of our attraction is the security and safety of our ports. That attraction is what we market to draw customers. We are touting our security record," he said.

The Director-General also engaged staff of Tema Port where he entreated them to continue to execute their task professionally to bring the relieve customers desire.
Source: EOP