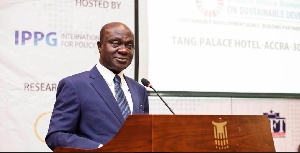 Tue, 26 Jun 2018 Source: Eye on Port
Professor George Gyan-Baffour, Minister for Planning has entreated stakeholders in the transport sector to explore workable but sustainable approaches to plan, finance and maintain the transport infrastructure whilst balancing issues of affordability to the citizens.
He pointed out that the traditional cycle of borrowing for major investment projects such as roads and raising funds from traditional sources for maintenance and operation would not enable Ghana to reach the Ghana beyond aid dream envisaged by the President.

Professor George Gyan-Baffour said this during the 3rd Transport Sector Review Conference in Takoradi.

"All stakeholders must embrace the emerging innovations in planning our cities and our communities to our benefit", he said.

On his part, Minister for Transport, Kweku Ofori Asiamah said government is committed to revamping the Tema shipyard to give it an international standard.
"The President is also making sure that we bring the Tema shipyard, which is not in Takoradi, to its' modern international standard to be able to take advantage of the oil and gas industry".

He also commended the president for allowing local content in terms of awarding the construction of the Atlantis Terminal Services at Takoradi port to local companies which is one of its kind.

The Minister of Railways Development, Joe Ghartey noted that the expansion of the country's ports and road network would be meaningless if the rail sector was ignored.

"One of the biggest mistakes perhaps we made as a nation after we got independence is that we totally abandoned the railway", he lamented.
Source: Eye on Port