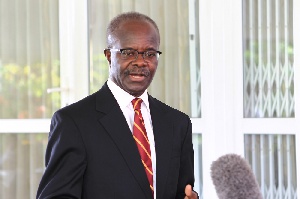 Dr Papa Kwesi Nduom, Chairman of Groupe Nduom, says the Bank of Ghana should be strengthened with the requisite resources to support small, local banks in Ghana.
According to him, Ghana's banking sector was in a crisis of poor regulatory work by the Central bank, particularly as Ghana's banking industry was one of the most profitable industries.

Speaking at the 5th Today Annual Lecture, organised by the Today Newspaper, one of the media subsidiaries of Groupe Nduom, he noted that it was regulatory work that strengthened small banks.

Making reference to regulatory work in United States of America, he explained that regulation in that parts of the world was regular with reviews and prompt feedback that was oriented towards identifying what the bank lacked and helping to find a way to correct those challenges.

"When they look at small banks like ours, the GN Bank in the US, they link us to the bigger banks. A month and half ago, I was in Dallas and was invited to sit at the same roundtable table with bigger banks like Citi Bank, where we share ideas, and in this case for example, Citi Bank is now able to offer to our small bank, the use of all its ATMs across the US, at no cost to our customers to help our bank to grow," he stated.

"Regular visits, regular communication, regular interaction and offering of technical assistance on governance, new technology and things that will help a bank to be more safe and sound; that's all that we need".
Dr Nduom urged small banks to be willing to accept offer of help and be willing to take criticisms that come, not only from the regulators but also from their Directors, shareholders, and customers, among other stakeholders.

"Because it is essential for banks, the Ghanaian banking sector; the local one, is essential for our development. As for problems, they will come, it's how we solve them, that's what is important," he stated.

Dr Nduom also called for more Ghanaian participation in the financial sector, particularly in the emerging Fintech industry, which will thrive on the growth of Mobile Money transactions and noted that the banking and mobile money sector in general and the telecommunications industry had been dominated by non-Ghanaians, thus the growth of the electronic money should see more Ghanaian participation.