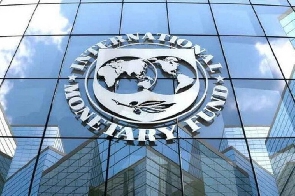 The International Monetary Fund (IMF) has called on all bilateral creditors to support Ghana's efforts to restore debt sustainability, as the country works towards presenting its economic programme for IMF Board approval.
Speaking at a news conference in Washington DC, the Director of Communications at the IMF, Julie Kozack, stressed the importance of Ghana securing financing assurances from partners and creditors, as a necessary step towards the presentation of its program request to the IMF's Executive Board for approval.

"We're calling on bilateral creditors to support Ghana's effort to restore debt sustainability, form an official creditor committee, and deliver the necessary financing assurances as soon as possible," Kozack said.

"While the IMF is engaging the Ghanaian authorities on the progress made on its request, the Fund is also seeking the assurances from Ghana's partners."

A self-imposed deadline of March ending has enabled Ghana complete most of its prior actions in record time, including a Domestic Debt Exchange Programme. Whilst Board Approval before the end of March is unlikely, it is obvious that the government's "self-imposed" deadline has enabled rapid progress on all fronts, making board approval highly likely within the next month or two.

Finance Minister, Ken Ofori-Atta, is currently leading a government delegation to China, hoping to secure financing assurances and reach a deal with the Asian economic giant to restructure Ghana's debt of ¢1.7 billion.
A tweet by Mr Ofori-Atta this morning stated, "So far had very positive and encouraging meetings in China! Looking forward to securing external assurances very soon, even as we pass our outstanding domestic revenue bills back home. Great progress on all fronts… #ResolvingTogether #GhanaFirst"

On their part, China's Foreign Ministry Spokesperson, Wang Wenbin stated at a Regular Press Conference on Wednesday 22nd March, 2023, that China attaches great importance to resolving Ghana's debt issues and understands the difficulties facing the country at the moment.

Confirming the ongoing visit to China of a high-powered government delegation led by Ken Ofori-Atta, Mr Wenbin stated, "We would like to enhance communication with Ghana to work out a proper settlement through consultation."

With the support of bilateral creditors and partners, Ghana is working towards restoring debt sustainability and securing the IMF's support for its economic programme.

The IMF programme aims to support Ghana's efforts to restore macroeconomic stability, debt sustainability, protect the vulnerable, preserve financial stability, and lay the foundation for strong and inclusive growth under the Ghanaian government's Post Covid Programme for Economic Growth (PC-PEG).