Total Ghana Limited has launched the Total Troxi Club a special Total Card package for Ghanaian commercial drivers to enable them buy fuel and other oil products at a cheaper prize from all their service stations across the country.
The innovative Total card, which is a first from the company, will give drivers and motorists a five percent discounted at every purchase, helping to save more. The card will also track purchases made by drivers to allow them win prizes every three months.

Speaking at the launch of the Total Troxi Club at the Kaneshi Market, the Managing Director of Total Ghana Limited, Eric Fanchini said, feedback from the initial Total card which was introduced two years ago led to the introduction of a similar product for commercial drivers.

"The Total B2C card which was introduced in 2016 has become the preferred choice of the motoring public giving them a cashless, convenient and secured means of paying for their transactions at any Total station and also helping them to manage their fuel budget," he noted.

He further pledged the company's commitment to providing quality services for its customers as has been its trademark.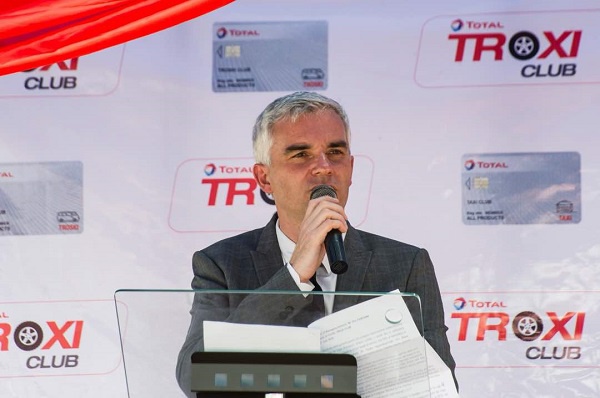 Managing Director of Total Ghana Limited, Eric Fanchini
"Total understands that fuels and oils in general are huge cost components for operating taxi, trotro and motorcycling services in the country, that is why we continuously seek ways to enhance the benefit packages of all members of the Total Troxi Club. You can now earn profit as you purchase fuel and oil from Total service stations and we also reward you for your loyalty to our brand. From today you can now enjoy cheaper fuel and engine oil prices and many more attractive packages the Total Troxi Club has specially made for you."

On his part, the Chief Executive Officer of the Association of Oil Marketing Companies, Kweku Agyemang Duah lauded the package by Total Ghana.




When you look at the innovations this oil marketing companies are introducing to benefit the average consumer, it is wonderful, especially when commercial drivers are also benefiting. This is really good. It is innovative and something that comes out of deregulation exercise we are having in the industry," Mr. Agyemang Duah said.

Commercial Drivers who want to sign unto the Total Troxi Club have been encouraged to visit any Total service station to register and get the card. Patrons will also be rewarded with souvenirs from the company for their loyalty.