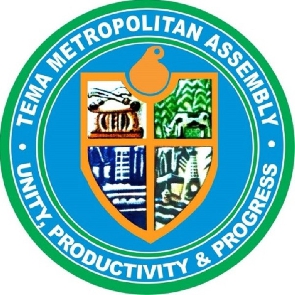 Sat, 22 Apr 2023 Source: GNA
The Tema Metropolitan Assembly (TMA) in 2022 collected a total of GH¢6,371,093.95 in Internally Generated Funds (IGF), with rates contributing the highest revenue.
Mr Yohane Amarh Ashitey, Tema Metropolitan Chief Executive, disclosing this in a sessional address during the Assembly's ordinary meeting indicated that the figure represented 98.45 percent of the budgeted GH¢26,785,379.97 IGF for the period.

Mr. Ashitey added that the rates contributed GH¢13,363,061.32 to the IGF, while other contributing revenues were from lands and royalties, rent of lands, buildings, and houses, licences, fees, fines, penalties, and forfeitures, as well as miscellaneous and unidentified sources.

He said, as of the end of December 2022, the Assembly mobilized a total revenue of GH¢42,365,164.16 out of an estimated GH¢46,705,705,155.89.

According to him, some strategies deployed by his outfit aided in collecting an improved IGF, among them were the strengthening of the substructures, the introduction of night toll revenue collection, and the introduction of intensive monitoring schedules for revenue contractors.

Other strategies he mentioned were training and capacity-building programmes for revenue collectors, regular revenue taskforce exercises, prosecution of defaulters, and stakeholder engagements, among others.

Touching on IGF expenditure, the MCE disclosed that, out of an approved estimated expenditure of GH¢26,785,378.97, the TMA as of December 31, 2022, had used GH¢25,694,585.15.
Mr. Ashitey said the expenditure covered compensation of employees, which amounted to GH¢3,593,882.87, goods and services-GH¢19,164,845.61, and IGF Capital expenditure, accounting for GH¢2,935,856.67.

He said to ensure sustained growth in the economic sector of the Metropolis, the TMA, together with the Ghana Enterprise Agency, introduced a series of programmes to promote local economic development and support the growth of micro, small, and medium-sized enterprises (MSMEs).

He said programmes were geared towards equipping the people with the requisite tools and funds to promote economic development in the metropolis.

According to the MCE, in 2022, the assembly facilitated the provision of certifications from the Food and Drugs Authority (FDA), and Ghana Standards Authority (GSA) to 123 entrepreneurs.

It also aided 57 clients to register their respective companies with the Registrar General Department and monitored the 360 youth beneficiaries of the Mastercard Foundation Young Africa Works Project, who received 'Start-up' kits after training.

Mr. Ashitey said 105 people were trained and graduated under the Apprenticeship to Entrepreneurship (A2E) project in the metropolis, while technical and entrepreneurial skills training were carried out for National Service Personnel, among other activities.
Source: GNA