Fri, 23 Nov 2018 Source: Michael Creg Afful
The Minister for Energy, John Peter Amewu, has asserted that Tema Oil Refinery (TOR) is back due to the level of work the current management under Hon. Isaac Osei has done.
According to him, the refinery is now in good position to champion President Akufo-Addo's agenda of making sure that there is regular supply of fuel at an affordable price for consumers.

John Peter Amewu who toured the facility on Wednesday, November 21, 2018, with officials from the Energy Ministry praised the MD of TOR for bringing the refinery back to work.

"Having gone round the kind of improvement I have seen and the work that has been done within this short period gives me hope and encouragement that TOR is back to work", he said.

Addressing the workers at a forum after touring the facility, Mr Amewu assured the workers that government under Akufo-Addo will make sure that TOR has regular supply of crude to keep the refinery running.

"His Excellency Nana Akufo-Addo is very much aware that if TOR is operating regularly, we are going to save a lot of money in terms of our import bill for refined products that we bring in- Is that not true? And so what we need to do is to give you the necessary assistance to be able to work. I stand here on behalf of government to give you the assurance that plans are far advanced to make sure that we give you regular supply of crude to work with," he assured.
The Minister commended the workers for continually pushing for government to ensure that TOR has crude to work with.

"One of the strongest union I understand across the sub-region is the union workers of TOR. They are strong because they want the right to be done," he said.

He, however, called on the workers to be measured when they are criticising management of their actions in order not to damage the image of the company.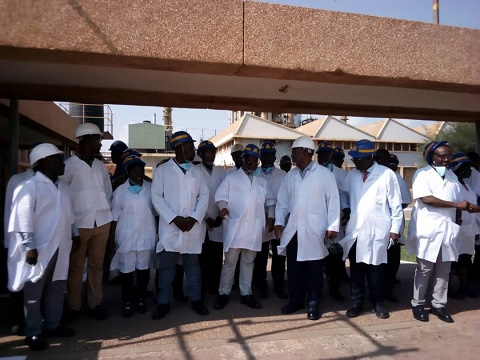 Source: Michael Creg Afful