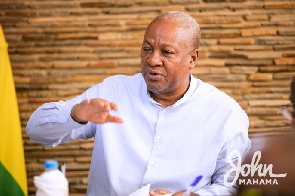 Former President John Dramani Mahama has condemned the Akufo-Addo government for causing pensioners pain and suffering from the effect of its reckless management of the economy.
According to Mr. Mahama, after borrowing recklessly and irresponsibly, which is the reason they are now traveling all over the world seeking debt forgiveness from the Chinese, the Paris Club among others, government has taken funds belonging to pensioners.

"Our own pensioners who have finished active service to the nation and are going to rest, the money that they earned that is supposed to feed them, [money] that they used to buy government bonds, today, this government says they cannot pay them what is there," he explained.

The former president was speaking at a campaign meeting with branch and constituency executives in the Awutu Senya West Constituency during his 'Building the Ghana we want together" tour of the Central Region.
"I ask myself: are you God to determine that the retiree will live that long to receive his or her money by 2035? Yet, that is how they have structured things. This is money that our pensioners use to purchase their little medicines to cater for themselves", Mr. Mahama noted.

President Mahama therefore called for Ghanaians to vote out the NPP government in 20204 for its lack of sensitivity and consideration.

"If a government can behave like this to a segment of its most vulnerable population, that government does not deserve to remain in power," he said.