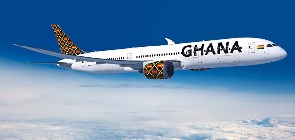 Since the collapse of Ghana Airways in 2004 and the subsequent collapse of Ghana International Airlines in 2010, Ghana has been without a national airline for international flight operations.
Despite the signing of several MoUs with Ethiopian Airlines and EgyptAir, moves to re-establish a national carrier hit a snag and this led to the establishment of a new committee to vet all proposals under the former Aviation Ministry, which is now being run by the Ministry of Transport.

With years in the works to establish a new national carrier, the government of Ghana finally selected 'Ghana Airlines' as the name for the new home-based carrier.

Ahead of the selection, names such as Akwaaba Airlines, Black Star Airlines, and Kente Airlines were mooted as part of the efforts to get a suitable name that will reflect Ghana's culture and boost the enterprise.

In the wake of this, government has since selected Ashanti Airlines as a strategic partner to operate a commercially viable home-based carrier which will run as Ghana Airlines Limited from the third quarter of 2023.

Ashanti Airlines, which is owned by business moguls, Osei Kwame Despite and his partner, Dr. Ernest Ofori-Sarpong has secured its Air Carrier License (ACL) and is seeking to complete the issuance of its Air Operator Certificate (AOC) which authorizes an operator to undertake specified commercial air transport operations.
Zotus Group Inc in the United Kingdom has also been selected to become the financial and operational partner of Ashanti Airlines with the Government of Ghana.

GhanaWeb Business understands that Ghana Airlines is expected to initially offer domestic and sub-regional services in addition to international services later on to key destinations across the world.

The aircraft, Ghana Airlines will use for its domestic operations is the Bombardier Dash 8-400 turboprop while the international service will use the Boeing 787-9 Dreamliner.

GhanaWeb Business takes a further look into the kind of aircraft tipped to operate Ghana Airlines in the third quarter of 2023.

Bombardier Dash 8-400 Turboprop
According to Aerotime Hub, Ghana Airlines Limited is expected to use about six Dash 8-400 Turboprops to commence its domestic and sub-regional operations.

The aircraft, depending on numerous factors would cost an average price of $3.25 million for a pre-owned model while a new aircraft would go for about $33.5 million on average.

The Dash 8-400 can seat up to 90 passengers and is said to have the highest capacity turboprop on the aviation market. The aircraft has the ability to also serve as a freighter, firefighting aircraft, missionized aircraft, among others.

It can operate in challenging weather conditions, especially on paved and unpaved runways. Since its launch, the Dash 8-400 aircraft operates in many countries across the world.


Boeing 787-9 Dreamliner

Once Ghana Airlines decides to operate its international flight services, Aerotime Hub reports that it would use a Boeing 787-9 Dreamliner.

It also reported that government in 2019 at the Dubai Air Show placed an order for three of the modern aircraft which can seat between 250 to 290 passengers.

The Boeing 787-9 Dreamliner currently costs around $292.5 million.

The aircraft, which is developed and manufactured by US-based Boeing Commercial Airplanes, can travel up to a range of 8,300nm (15,372km).
It also offers consumers an array of features, technology and has the capacity to operate in challenging weather conditions and environments.

The widebody aircraft consumes about 20 percent less fuel than any other aircraft in its class and employs new technologies for achieving efficiency.

Some of its primary users are American Airlines, Japan Airlines, United Airlines among others.




MA/FNOQ