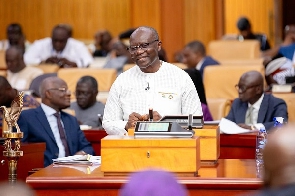 The Minister for Finance, Ken Ofori-Atta is still haunted by the resistance the Minority mounted against the Electronic Levy (E-levy) three years ago.
The controversial levy saw the 2021 budget rejected by the house with the speaker of Parliament Alban Bagbin presiding before his first deputy Joseph Osei-Owusu overturned the rejecting in the absence of the speaker.

Addressing MPs during the opening ceremony of the Post Budget Workshop in Parliament Ken Ofori-Atta pleaded with the minority to refrain from repeating the E-levy episode given the times the country is in.

Mr. Ofori-Atta disclosed the government is seeking to raise 0.9% of GDP through the revenue bills to be presented to parliament for approval.

"Mr. Speaker we are therefore calling on you to support us once again like we have done in the past to pass the proposed measures in the 2024 budget and on time.
"Mr. Speaker, there is a time and season to tear and a time to mend, there is a time for war, a time for peace and a time to scatter and a time to gather. Mr. Speaker this is the time to gather, this is the time to mend and also a time for peace," the Finance Minister pleaded.

Speaker of Parliament Alban Bagbin on his part charged Members of Parliament (MPs) to take into consideration the sentiments of the public in their deliberations arguing this year's budget is a very critical one.

"It is our duty to strive to improve the welfare of our people and even though we see this as the usual business of Parliament. This time around is more critical than before, this budget is a critical budget and I want us to have time because leadership have discussed with me and we have enough time to deliberate on the budget," he added.