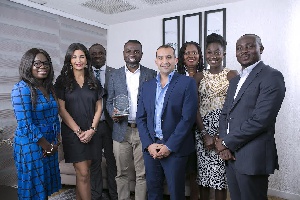 Fri, 14 Oct 2016 Source: tigo ghana
Outperforming its competitors in the industry, Tigo, the country's leading digital lifestyle brand, was adjudged Telecommunications Company of the Year at the 2016 Chartered Institute of Marketing Ghana (CIMG) awards held in Accra.
The company was recognized for its outstanding blend of innovation and creativity across all its initiatives, coupled with highly relevant tailored services, superb managing of marketing effectiveness, staff development and CSR programmes.

The Chief Executive Officer (CEO), Roshi Motman, reiterated the company's desire to continue maximizing its investments in network quality, products, brand, corporate social responsibility, and customer care including supporting Corporates and SMEs to provide them with the best experience.

She expressed gratitude to the leadership and the wider team for their consistent output and innovation. "Winning this prestigious award attests to our commitment of ensuring we give the best to our customers. Thank you to every member of the team and our partners for their dedication, hard work and creativity in everything we do in the business", she said.
In 2015, Tigo Ghana scored the highest growth in its net promoter score (NPS) with an increase of 37 percent, improved brand consideration by 33 percent, and had the highest rise in network availability in the industry by 9 percentage points.

Its unique marketing campaigns such as 'Drop That Yam', 'Yensor Nkoaa', and current 'Wu Suro a Wondi' promotion together with 'Tigo Music Unplugged', and critically acclaimed CSR projects like 'Shelter 4 Education', 'Automated Birth Registration' and 'Mobile Digital Library van' have spearheaded the telecom company into the limelight as a formidable brand loved by Ghanaians.

The prestigious CIMG awards seeks to recognize personalities, media, marketing communications organizations, products, not-for-profit organizations, and business organizations for their outstanding performance in their various industries. It was held under the theme: "Democracy and national cohesion; marketing a new political paradigm".
Source: tigo ghana