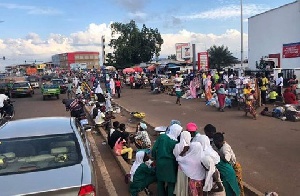 The Metropolitan Chief Executive (MCE) of Tamale, Musah Superior, has been forced to suspend operations on decongestion and promotion of sanity in the regional capital by some bigwigs of the New Patriotic Party (NPP) in the region.
DAILY GUIDE has gathered that there is confusion between the MCE for Tamale and some party executives in the region due to some decisions taken by the MCE to sanitize the metropolis.

Shortly after assuming office as MCE for Tamale, Musah Superior embarked on various exercises aimed at decongesting and promoting sanity in the regional capital. The exercise led to the eviction of traders and hawkers from the streets and pedestrian walkways, enhancing easy movement of human and vehicular traffic and sanitation in the regional capital.

When DAILY GUIDE visited the main streets of the metropolis, it was revealed that traders and hawkers had reconvened on the streets, going about their daily business activities.

Last week, one person died with six others sustaining various degrees of injury when a Kia truck veered off the road and ran into some roadside traders at the Ashaiman market in Tema.

It is believed that the avoidance of such calamities is what prompted the MCE to embark on decongestion exercise.

However, the decision by the MCE to decongest the city has attracted the displeasure of some individuals and indeed some members of the NPP in the region, causing internal conflicts.
According to the regional youth organizer of the NPP in the Northern Region, Alhaji Rashid Cop, the timing for the decongestion was wrong and according to him, the MCE did little in terms of consultation before embarking on the said decongestion.

He added that Musah Superior is engaged in activities that are, to a large extent, 'disastrous' to the party and could deny the party the votes of the people in the next general elections.

Alhaji Rashid Cop said the MCE should channel his energy and resources into completing developmental and infrastructural projects which would be tangible evidence for the electorate to win their votes.

The Northern Regional Youth Organizer said that after almost two years in office as the MCE, Musah Superior had not completed any project in the metropolis.

He indicated that the operations of the MCE have the tendency of causing the defeat of the party in the region come 2020.

Rashid Cop therefore appealed to the party executives in the region to call the MCE to order and put him on the right path before it's too late.