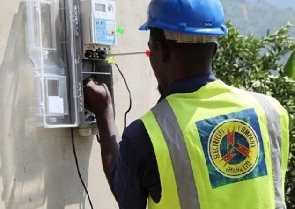 Two people who posed as workers of the Electricity Company of Ghana (ECG) at Tarkwa in the Western region have been arrested.
The imposters sold a fake electricity meter to a customer at Damang at a cost of GH¢4,700.

The suspects; 29-year-old Eric Kwaisie and 23-year-old Stella Ankomah, were charged with pretense, among other charges by the Tarkwa Central Police.

According to the Western Regional Public Relations Officer of ECG, Benjamin Quarcoo, the customer, after suspecting foul play alerted the district manager who then invited the police to arrest the suspects.

In an interview with Citi News, Mr Quarcoo said, "The suspects were able to convince the customer to part with an amount of GH¢4,700 in exchange for a 3-phase meter, but the customer, suspecting foul play, alerted the District Manager, who in turn invited the police to arrest the suspects."

He, therefore, entreated customers to deal with only authorized ECG officials at their customer service centres to avoid falling prey to scammers.
ESA/NOQ

Watch the latest edition of BizTech and Biz Headlines below: