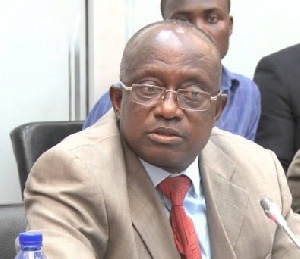 President Nana Addo Dankwa Akufo-Addo has fulfilled his 'one million dollars for each constituency' promise he made during the 2016 electioneering campaign.
The money, made available to the constituencies, is currently being used to finance developmental projects for the benefit of the people.

This news was announced to the media by the Ashanti Regional Minister, Simon Osei Mensah, when he was addressing journalists in Kumasi on Tuesday about some of government's projects and achievements.

He indicated, "The 'one million dollar for each constituency' campaign promise by President Akufo-Addo is being implemented across the country now so that the people can benefit from the huge cash.

"As I speak with you, contracts for the construction of boreholes and toilet facilities have been awarded across the constituencies and they are being financed through the 'one million dollar for each constituency.'"

Mr. Osei Mensah therefore, urged those who have been lambasting the government unnecessarily for not implementing that campaign promise to refrain from doing so because the government had done it already.
"Our political opponents thought the one million dollars would be taken to the constituencies in cash so that some few people can distribute it among themselves, whilst majority of the people suffer.

"President Nana Akufo-Addo and the NPP administration want the huge cash to become beneficial to every member of the constituency, irrespective of their political, social and religious or any background.

"In line with this, the government has adopted a positive strategy to use the cash to embark on developmental projects across all the constituencies so that the entire residents can benefit from the projects," he maintained.

Mr Simon Osei Mensah also said the NPP government is on track, regarding fulfilling campaign promises, adding, "The Free SHS has been delivered, dumsor has been stopped, the NHIS has been revamped, among others."