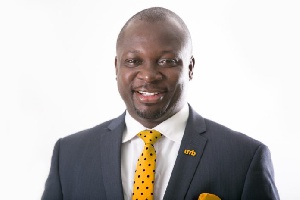 The country has not fully taken advantage of the potential inherent in the production and export of starch in order to generate more foreign exchange and increase incomes and socio-economic wellbeing for hundreds of smallholder farmers.
A research report titled 'Cassava Starch Market: Global Industry Trends, Share, Size, Growth, Opportunity and Forecast 2018-2023' by IMARC Group estimates that the market reached a volume of 6.7 million tonnes in 2017.

Even more revealing is the fact that the starch market is expected to cross 7.4 million tonnes, registering a compound annual growth rate of approximately 1.6% by 2023.

Starch is produced from grain or root crops and represents one of the renewable and abundant substances in nature. Starch is used to produce such diverse products as food, textiles, adhesives, beverages, confectionery, pharmaceuticals, and building materials.

With specific reference to cassava starch, it has many remarkable characteristics. These include high paste clarity, high freeze-thaw stability, and high paste viscosity; characteristics which appeal to many industries.

To tap into this highly profitable enterprise, government encouraged the establishment of a starch processing factory under its 'One District, One Factory' (1D1F) initiative.

UMB Steps Up to the Plate
Universal Merchant Bank (UMB), a full-service financial institution specialising in customised banking products and services – through the UMB PPP Incubator Centre, is the first bank in the country to take the bull by the horn by providing a credit facility to the tune of US$10.7million to the Central Sugar Company Limited toward the establishment of a starch manufacturing factory in the Brong-Ahafo Region of the country.

The Central Sugar Company Limited, to be established under the 1D1F, will produce starch in commercial volumes from cassava at their base in Prang, Pru district, Brong-Ahafo Region.

"This signing ceremony is a demonstration of our bank's commitment to fully support government's industrialisation agenda, which includes the flagship One District, One Factory programme. This project, the bank believes, will strengthen the local economy in Prang by creating numerous jobs for locals," said John Awuah, Chief Executive Officer of UMB.

Mr. Awuah noted: "Given the enormous benefits to be derived from the entire starch processing value chain – from farmers to factory hands who will be employed for handling the produce before production; factory-floor hands to engineers, chemists, marketing managers; transport operators to exporters and retailers – we are creating jobs, improving their economic well-being and creating value for our investors. That's a win-win solution in a neglected sector".

Supporting local businesses has long been part of this indigenous bank's DNA, since 1972. UMB is recognised for its entrepreneurial approach, innovative use of technology, and distinctive banking solutions.

The bank currently operates in 7 regions of Ghana and has thirty-six (36) branches, three (3) UMB Centres for Businesses, one (1) UMB PPP Incubator Centre, and a vast network of ATMs.
UMB PPP Incubator Centre – Home of 1D1F Initiative

UMB set up and inaugurated the specialised and technical Private-Public-Partnership (PPP) Centre in line with its vision of supporting the 1D1F initiative to change the Ghanaian economic structure from import-dependent to export-driven. The Centre also handles any business arrangement that calls for collaboration between private enterprise and government.

This Centre is dedicated to supporting private and public entities seeking a mutually beneficial approach to crafting, planning, and implementing various sustainable private-public-partnership projects.

The expert team at the Incubator Centre has years of experience in project management, development and financing, as well as business advisory and mentorship services. Since its inauguration in 2017, the Centre has continuously been appraising a myriad of business proposals to ascertain feasibility and has financed transactions under the government's Business Stimulus Programme.

In the words of Mr. Awuah: "The UMB PPP Incubator Centre is a specialised Centre fully-equipped to offer financial and technical support to private sector promoters who have interest in government's One District, One Factory and other public–private partnership projects".

The 1D1F Initiative
Government's 'One District One Factory' policy is intended to create an environment conducive for each local government area to own factories relative to their well-endowed resources, and capacity to provide jobs and wealth for the country.

Under the 'One-District-One-Factory' programme, at least one factory is expected to be established in each of the 216 districts of Ghana.

To ensure sustained momentum behind the initiative, which is being championed by the Ministry of Trade and Industry, a Secretariat – the 'One District, One Factory Secretariat – was set-up under the Office of the President to coordinate the various interest sounding activities of various investment promotion agencies and to peruse proposals received for their viability.

The Secretariat has so far forwarded about 69 business plans and proposals to some participating financial institutions to appraise – one of which UMB has comprehensively reviewed and provided a whopping US$11m funding for.

Socio-economic Benefit of the US$ 11 million Starch Factory

On the international market, the cassava starch price is higher than cassava. Studies have found that when processed into starch its price can multiply several-fold.
At the moment, cassava starch is popular in Europe, America and Asia. China's demand alone for cassava starch is more than 1 million tonnes, but cassava starch production volume is far less than this.

The demand for cassava starch on the international market also keeps increasing, owing to changes in people's food consumption trends and further improvement of cassava starch applications. A successful starch factory will serve to increase the country's international trade and receipts, create thousands of jobs in the value chain, improve the income of smallholder farmers and largely improve their living standards.