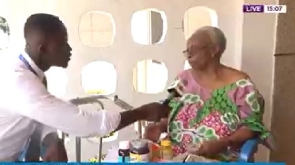 The reality behind pensioner bondholders lining up in front of the Ministry of Finance to picket for the payment of their bond coupons is one that is sad.
A pensioner bondholder, Sybil Genevive Foli says she is at the brink of losing her domestic staff aside the risk of suffering a medical emergency as a result of not being able to afford their salaries and her own medication.

"We are not even able to buy them, they are now even more expensive. Most of them are expensive so I am not able to buy drugs to take care of my health and to pay my staff who have been supporting me because I cannot walk; I don't do anything; I depend on them," she told Accra-based Citi TV in an interview at her home.

"I have to pay them but how do I do that now if I don't have my money, the bond if they are not releasing it to me regularly how do I take care of myself, how do I survive?" she added.

A number of pensioners have commenced picketing at the premises of the Ministry of Finance in Accra demanding that the state honours their matured bonds and interests as agreed.
Pensioners stiffly refused to be added to government's Domestic Debt Exchange Programme (DDEP) earlier this year and were exempted after dogged protests.

Government has, however, failed to pay their matured bonds as agreed forcing them to return to picketing.

Most of them are concerned about the non-payment because they emphasize the importance of such funds to their lives in retirement. The issue of taking care of their health is a major reason they are calling on government to honour her financial obligations to them.

GA/SARA