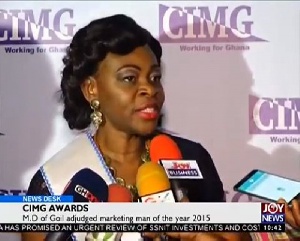 The Managing Directors of Unilever Ghana Limited and GOIL Elizabeth Arkutu and Mr Patrick Akpe Kwame Akorli have been adjudged CIMG Marketing Woman and Man of the Year 2015 respectively.
Mrs Arkutu was celebrated for her extraordinary leadership in 2015 which helped the Unilever brand meet the needs of its customers.

A citation read in her honour at the awards extolled Mrs Arkutu's peerless vision for the future, heightened human relations and her humility when relating with her colleagues no matter their position in the company.

She was also eulogised for helping in the expansion of Unilever Ghana's operations that saw dozens of Ghanaians employed, halving their dependence on relatives.

The theme for the event was: "Democracy and National Cohesion; Marketing a New Political Paradigm." The rationale behind the Awards is to reward and promote marketing excellence across institutions.

Mr Akorli, in his acceptance speech, thanked organisers for the honour and recognition of his hard work and dedication to work.

He said: "We are energised by the Awards to put in our best to grow and develop our various companies, contributing to the economy."
Mr Kojo Mattah, the National President of CIMG, said the Awards are Management's modest contributions aimed at marketing Ghana and improving on the way they handle their profession.

He said with the awards the CIMG is contributing to encouraging excellence at the professional and business levels and also pushing towards the concept of "Ghana First".

He said as a nation, all should continue to strive in order to shift away from tendencies that would result in bickering, social upheavals and wars.

Mr Mattah said the old divisive principles of partisan politics must eventually give way to a body of politics with sound marketing practice in place of propaganda.

The National President said Ghana could today boast of a good number of professionally qualified marketers, who could help market political ideologies and good works of political parties without engaging in insults or unnecessary rivalry.