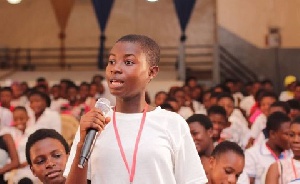 Vodafone Foundation has held a three-day scholars camp for girls at the Labone Senior High School in Accra as part of efforts to empower young and brilliant girls.
Vodafone Ghana, in partnership with British Council, is ensuring that more female students are enrolled into senior high schools annually as part of its commitment to encourage women in the field of science and technology.

Three hundred brilliant but financially challenged females from over 80 senior high schools across the country took part in the camp.

They were taken through various topics to empower them in Science, Technology Engineering and Maths (STEM).

Samuel Gyedu-Brefo, Project Manager, British Council, said research shows that in the STEM space, there is a wider gap between the males and females.

"To bridge this gap, we decided to come up with this programme to help young girls to take up the challenge," he said.
Mr Gyedu-Brefo said over the past three years, our partnership with Vodafone Ghana on the Vodafone Scholars Foundation has led to the award of scholarships to about 100 girls.

"We have had a lot of success stories from girls who don't have to worry about their school fees but only have to concentrate and learn.

"The scholarship does not take care of only their tuition fees but also administration fees and textbooks, as well as exercise books, Gyedu-Brefo said.

Kenneth Ashigbey, Board member, Vodafone Ghana Foundation, in an interview with the Ghana News Agency (GNA), said the camp, which is in its second year, was focused on girls, who are interested in STEM.

"For us as a country, we don't have a lot of women who show interest in the STEM…for us at Vodafone Foundation we believe there is the need to give them the opportunity and platform to be able to develop themselves."