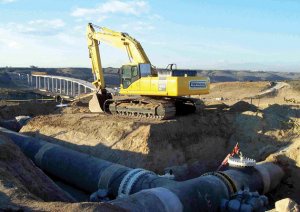 Thu, 28 Feb 2013 Source: Citi FM
The West Africa Gas Pipeline Company (WAPCo) has given April 30 for the completion of works on the damaged pipeline that has led to the shortage of natural gas in the power sector.

The damage to the Togo end of the pipeline sometime last year resulted in a halt of the company's operations, leading to a shortfall in supply hence the load shedding.


But management of the WAPCo, who transport natural gas to its partners including the Volta River Authority (VRA) have stated that the shortage will be addressed once contractors working on the project complete their work by the April 30 deadline.


"We have mobilized one contractor and a second one has also been signed on to manage the drilling of the pipeline and the discharge of the water and debris that will come out at the Takoradi end; we have given a tentative date of April 30 as the date that we will complete this exercise and inform our customers on the availability of gas through the WAGP," said the General Manager in charge of Corporate Affairs at WAPCo, Harriet Wereko-Brobby.

The WAPCo is a limited liability company that owns and operates the West African Gas Pipeline.


The company on August 28 last year shut down the pipeline system after experiencing a loss of pressure around the Lome segment of the pipeline.


The company says it is however working hard to ensure that natural gas is back on stream for onward transportation to its clients.

Source: Citi FM