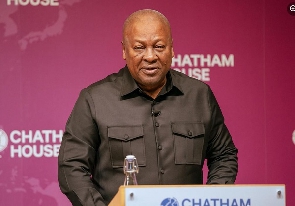 Former president, John Dramani Mahama, has accused the Akufo-Addo-led government of their lack of efforts aimed at increasing the country's oil production in the upstream sector over the last seven years.
According to him, greed and ineptitude against national interest have engulfed the current government which has resulted in the lack of development in the oil and gas sector.

In a tweet posted on February 6, 2023, John Mahama said described the development as 'wasted years' despite his [NDC] administration handing over two new oil fields [TEN and Sankofa] to the Akufo-Addo government in 2017.

"Wasted years! We bequeathed to the Akufo-Addo government two new oil fields, TEN and Sankofa. Greed and ineptitude as against national interest means a sad reality of no additional production activity in our upstream oil sector in the last 7 years," John Mahama wrote.


Wasted years! We bequeathed to the Akufo-Addo gov't two new oil fields, TEN and Sankofa. Greed and ineptitude as against national interest means a sad reality of no additional production activity in our upstream oil sector in the last 7 years.

— John Dramani Mahama (@JDMahama) February 6, 2023
Meanwhile, the Public Interest Accountability Committee (PIAC) in a recent assessment report on Ghana's petroleum revenue management spanning a 10-year period showed that an amount of US$31.22 billion in value was generated from three producing oil fields between 2011 and 2022.

PIAC's report which was released on March 1, 2022, said the generation comprises both entitlements due to the contracting parties and the Ghana Group.

The Ghana Group, according to the report earned US$6.55 billion in total petroleum receipts between 2011 and 2020.

MA/FNOQ