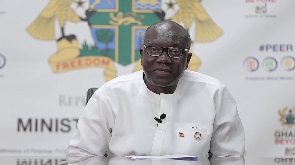 Finance Minister, Ken Ofori-Atta, has stated that Ghana is yet to know what debt relief it will get from creditors after it received financing assurances from its bilateral creditors on May 12, 2023.
On May 12, 2023, a creditor committee consisting of Ghana's creditors was established.

The committee is co-chaired by China and France. Currently, Ghana is seeking debt relief or debt cancellation from its creditors as one of the requirements for obtaining an IMF deal.

Once this assurance came from the Creditor Committee, Ghana fulfilled all the pre-conditions for the $3 billion loan facility.

This was approved by the IMF board on May 17, 2023.
During a joint press conference by the IMF and the Finance Ministry, Ofori-Atta said: "With regards to the issue of the negotiations and discussions with commercial and external creditors, we really are at the beginning of that discussion and therefore cannot really be specific about what 'haircut' or how that will end, but so far discussions have been very cordial and we hope that with the signals given by the fund, we will also have an accommodation that will suit all parties," he said.

The first tranche of the $3 billion - $600 million is expected to hit the Bank of Ghana's account on Friday, May 19, 2023.

SSD/MA