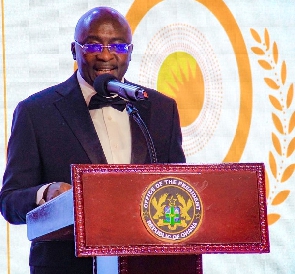 The continent has every ingredient needed to be prosperous, and cannot continue being known for poverty and underdevelopment, Vice President Dr Mahamudu Bawumia has said – calling on governments and businesses to seize opportunities provided by the Africa Continental Free Trade Area (AfCFTA) to change the bad narrative.
Speaking at the maiden Africa Prosperity Dialogues, dubbed the Kwahu Summit and themed 'AfCFTA: From Ambition to action; delivering prosperity through continental trade", he said effectively implementing AfCFTA will position Africa as an attractive investment destination; which will sustain economic growth and create desperately needed jobs.

However, for the AfCFTA to deliver the envisioned robust intra-Africa trade, economic diversification and much-needed industrialisation as well as prosperity, he underscored the need for concrete strategic actions by governments and businesses.

"This is the time for businesses to dialogue on smart ways to utilise opportunities from the agreement for a resilient, sustainable, inclusive and prosperous Africa. From most parts of the world, the narrative about this beautiful continent has sadly been about poverty, conflict, misgovernance, corruption and underdevelopment," he said.

He however said with the AfCFTA coming on board, the time has come for Africa and Africans to define their own narratives: "We cannot allow poverty and underdevelopment to be the destiny of Africa when the continent is blessed with every natural resource imaginable. We have everything we need to transform Africa into a global powerhouse of the future".

Instructively, he said intra-Africa trade can be boosted by US$ 35 billion while external imports can be reduced by some US$ 10 billion annually on the back of the free trade zone.
Currently, the continent accounts for about 3 percent of global trade – with intra-Africa, trade being one of the lowest of any region globally, largely due to the colonial economic model characterised by small individual economies, fragmented and disconnected regional markets, lack of shared infrastructure and low productive capacities.

According to the World Bank, full implementation of the agreement will boost regional income by 7 percent to US$450billion, lift 30 million people out of extreme poverty, and another 70 million people from moderate poverty.

It is also anticipated that the trade bloc will further spur wage gains for women by 10.5 percent compared to 9.9 percent for men while making African countries more competitive – a situation that will propel innovation and growth.

Executive Director and Coordinator of the Africa Prosperity Dialogue Summit, Dr Eugene Owusu, called for bold, innovative and smart actions to spur intra-Africa trade, accelerating cross-border impact investments in the process.

"In the world of increasing economic nationalism, deeper intra-Africa trade is going to be our life-support, and indeed the basis of our collective prosperity. We do have everything that we need to transform Africa into a global powerhouse of the future, and the game-changer is going to be the speed and scope of implementation for the Africa Continental Free Trade Area," he stated.