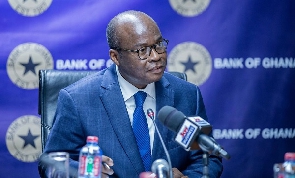 An Advisor to the Central Bank Governor, Stephen Opata, has emphasized that the Bank of Ghana has not provided any form of lending support to government for the 2023 financial year.
According to him, the decision by the Bank of Ghana is expected to be in place until the current IMF programme has elapsed. He noted that it forms part of conditions contained in Ghana's programme with the Fund.

Speaking with journalists at a press briefing on August 2, 2023, Stephen Opata said the move falls in line with a Memorandum of Understanding (MoU) signed between the BoG and the government of Ghana for zero financing.

"The effort to rebuild equity has started following the signing of the MoU on zero financing to government but we recognize that maybe at some if government can do something about capital injection but probably this is not the time for that…instead we should focus on the three-year reforms under the IMF programme," Mr Opata said.

Prior to Ghana clinching a 17th IMF deal, the Central Bank Governor, Dr Ernest Addison said the Bank of Ghana and the Ministry of Finance had committed to zero financing of the budget in 2023 and beyond.

He explained the move forms part of prudent macroeconomic policies which are expected to trigger a disinflation path and downward trends in the monetary policy rate.
Speaking at the 60th-anniversary launch of the Institute of Chartered Accountants Ghana (ICAG), Dr Ernest Addison, noted that the MoU seeks to further restore the country's reserve buffers to at least 3 months of imports covered by the end of 2025.

MA/NOQ

Watch the latest edition of BizTech and Biz Headlines below: