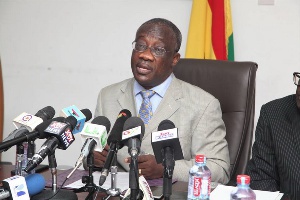 The Commissioner-General of the Ghana Revenue Authority (GRA), Mr Emmanuel Kofi Nti, has said that the Authority has resolved to use prosecution as a significant tool for ensuring that the citizens pay taxes.
He said the GRA's intention is to increase the use of prosecutions as one of its weapons in the fight against non-compliance, tax evasion, as well as tax and customs fraud.

The status quo will be no more, he said, adding that the GRA will bite hard this time around.

Mr Nti said this at the launch of GRA's prosecution policy on Tuesday, 30 April 2019 in Kumasi.

He said with the launch of the prosecution policy, the GRA is giving all income-earners as well as potential and existing recalcitrant taxpayers the opportunity to amend their ways and become compliant.

The GRA, he said, has for the past two years, intensified its public education and sensitisation programmes nationwide to deepen awareness of various topical tax issues and the need to be tax compliant to avoid any infractions of the tax laws.

He, therefore, encouraged the general public, especially income-earners to be well-acquainted with their obligations under the tax laws and the prosecution policy documents so that they will be well-guided to prevent any infraction.
For his part, the Finance Minister, Mr Ken Ofori-Atta, expressed support for the prosecution policy which he said has been much-expected.

He said the ministry will collaborate with the top management of GRA to provide the needed resources and logistics to enable the legal department work to achieve its prosecution goals.

He charged the top management of GRA to ensure that the legal affairs and treaties department becomes the controlling office for all matters related to the prosecution of tax offences with the collaboration of other relevant departments.

He was deputised at the programme by the Coordinating Director at the Ministry of Finance in charge of Operations, Mr Michael Ayesu.