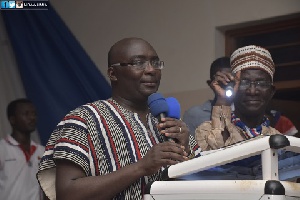 The Head of the Economic Management Team of the incoming Nana Akufo-Addo government, Dr. Mahammadu Bawumia has said the New Patriotic Party administration will endeavour to secure an environment and business climate that will leverage the huge prospect of the private sector.
The Former Deputy Bank of Ghana governor said, there are clear cut policies set by the Akufo-Addo government to reposition the country as the most business and people-friendly economy on the continent.

Barely twelve days to go, a new government led by the three-time NPP Flagbearer, Nana Akufo Addo would be sworn into office as the Fifth President of the Fourth republic.

But after an exhaustive campaign lettered with talk of a frail economy and the mismanagement of the nation's resources, critics will want to witness an NPP government that will work to restore macroeconomic stability and boost the business environment with good policies.
But the Vice President-elect, Dr. Bawumia in an interview with Accra-based Joy FM has re-echoed that the Akufo-Addo led government will come up with policies that will expand and transform the economy.

"We want to see the economy growing. Right now we're growing around 3%. We used to grow in the big days around 2011 about 14% when the Oil was coming, 8% coming down but we're now at 3%. You need to increase the growth rate of the economy. And the way you are going to do it offcourse is to make sure that the private sector is energized. And so we are going to see a transformation even in mindset that you're going to build the most business friendly and the most people friendly economy that you can, so that we encourage both local and foreign investment. We'll remove the obstacles and bring down the tax burdens on people. We make sure that the health service is better managed and people can actually get better and quality access to healthcare.

"I want to make sure that Nana Akufo-Addo's call that we should have no village that has water problem in the next two years be realized. And we believe for example that the 1 million dollar per constituency each year, the equivalent which is 4 million Ghana cedis a year per constituency, if the constituencies identify those needs and the executing agencies address them we should not really have water problem; This one-village-one-dam promise we should realize it so that we can get the agriculture sector moving. Because if you're going to transform this economy and you don't transform agriculture then you have done nothing. So we are going to see a major focus on agriculture so that we can begin the process of transformation. We also want to see jobs being created and move the economy from focus on taxation to a focus on production."