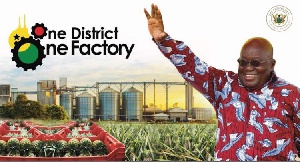 A member of the ruling New Patriotic Party (NPP) Communications team, Eric Amoako Twum, has said the government may have to go back to the drawing board to redefine its flagship policy "One-District One-Factory" to properly address the economic needs of Ghanaians.
The NPP while in opposition promised to establish a factory in each of the 216 districts (now 254) in the country, but on coming into government less than 100 factories to produce various goods have been established or revived.

In the wake of conversations about the alarming depreciation of the cedi, many experts, including the President, Nana Addo Dankwa Akufo-Addo, have blamed it on the country's high appetite for imported goods.

An extended conversation on the matter questions why the country continues to import when the 1D1F was supposed to help reduce importation.

Some critics however think that the policy could focused on setting up factories for goods that the country imports the most rather than seeking to set up different factories across the country.

Speaking on TV3's New Day Thursday, Mr. Twum agrees it will not be out of place to consider the options being proffered by the critics.

"And people have come out and said, listen, maybe even for the one district one factory, four, five, six products that are major imports into this country and create a huge factory to afford for economies of scale", he said.
"I believe that we can go back to the drawing board and redefine the 1D1F in terms of 5,6 strategic factories", he added.

Asked if he is convinced that is the way to go to make the policy better, Mr. Twum responded in the affirmative, "I believe in it".

Private legal practitioner and member of the Conventions People's Party (CPP), Kwame Jantua, who was also contributing to the discussion observed that it has always been his position that the 1D1F policy focuses on a few factories that manufacture goods the country has a competitive advantage in.

"The focus of one-district one-factory should not have been the way it is", he observed.

Member of Parliament (MP) for the Tamale North Constituency, Alhaji Alhassan Suhuyini, also noted that it is welcoming news to the National Democratic Congress (NDC), that the NPP has agreed to go back to the drawing board.

According to him, it has always been the position of the NDC that the government did not think through their policies properly but "governs as you go".