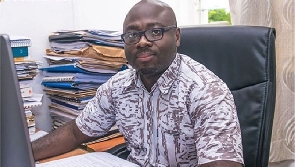 Lecturer at the University of Ghana Business School, Professor Lord Mensah, has called for the commercialization of roads in Ghana to improve the country's road maintenance culture.
Speaking in an interview with Samuel Eshun on Fact Sheet on eTV Ghana, Professor Mensah stated that Ghanaian politicians often prioritize road construction as a means of flexing their political muscle, rather than prioritizing the maintenance of existing roads.

To address this issue, Professor Mensah suggests that Ghana could learn from other emerging economies where tolls are collected for some measured distance travelled on the road.

"If you turn up to come to our environment, you realize that our politicians often flex their muscle through promising of roads and that is why probably we've not had the opportunity to prioritize most of our roads. In other emerging economies, there are some roads that are even premium," he noted.

He re-echoed that tolls can generate funds that can be used for the maintenance and expansion of Ghana's road network.

Using the example of the road from Keta to the Western side of the city in Accra, Professor Mensah recommended the creation of a commercial road that would bypass the congested traffic in Lapaz through to Kasoa.
He suggested that such a road could be built beyond Kasoa and a toll could be placed on it, making it a premium road that would offer a faster and more efficient route for commuters.

Professor Mensah also expressed concern about the cost being created as a result of policy inconsistencies with the current administration.

He stated that the cost is significant, but difficult to quantify and that it is unclear who will be held responsible for this loss under the current and previous governments.

"The standard now that we have achieved is okay but the cost being created as a result of the policy inconsistencies that we have with this administration is alarming. The cost is a huge one and you can't even quantify it and who's going to be charged for this loss. We can't identify anybody," he bemoaned.

In November 2021, the government abolished road tolls to reduce traffic flow and enhance productivity. However, the Finance Minister, Ken Ofori-Atta, is now proposing to bring back the tax, this time at a higher rate.