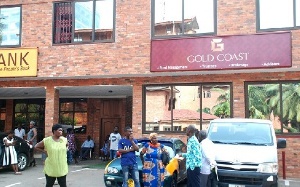 The management of the Gold Coast Fund Management (GCFM) Limited has revealed that it has paid close to GHC70 million to its investors out of a total of GHC200 million.
"So far, I think we have paid out about GHC70 million", out of the over GHC200 million owed clients, the General Manager for Investor Relations at Gold Coast Fund Management Limited, Mr Benjamin Afreh told Benjamin Akakpo on Class 91.3FM's Executive Breakfast Show on Thursday, 18 April 2019.

This follows protests and demonstrations by some investors at various branches of the investment firm to demand their locked-up funds which they say have not been paid since September 2018.

Mr Afreh noted that the firm has been unable to meet all the requests of its customers because it has difficulty accessing funds from its investments with other entities to generate enough liquidity.

He said the firm has been faithful to its clients for, at least 15 years, adding that the recent challenges in the financial sector in the country has contributed to the current problems of the firm.

He said the government has been a beneficiary of Gold Coast's operations as they have invested close to GHC14 billion since 2014 in various government projects in excess of 600 including schools and roads.
On the same programme, Mr Foster Mensah, a member of the Concerned Customers of Gold Coast noted that he has been a beneficiary of the products of Gold Coast since he started investing with them three years ago.

He said: "Since November 2015, they have created wealth for me".

However, he has been unable to retrieve his funds in the past year, which has been a worry to him.

He further disclosed that Gold Coast has been able to pay GHC1.3 million out of a total of GHC25 million to some members of the group.

Mr Mahama Mohammed, a depositor and also a member of the Concerned Customers of Gold Coast lamented the failure to retrieve his locked-up investments, which he said has resulted in him losing his job because he did not have money to renew his licence to continue operating as a seafarer.
For his part, a member of Action Gold Coast Now, Wolfram Fosu, criticised the Securities and Exchange Commission (SEC) for issuing a directive to Gold Coast to stop taking new investments without any plan to address the consequences of panic withdrawal and the unavailability of funds to pay existing customers.

He said the inability to access his investment has affected his business in the past year.