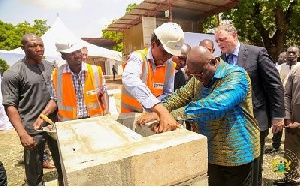 President Nana Addo Dankwa Akufo-Addo has assured investors in the country of his government's commitment to protect their investments.
"I want to say Ghana recognises the importance of the security of such investments and would ensure that our relevant institutions stand ready to protect them".

The President gave this assurance at the sod-cutting ceremony of for the construction of a new French Embassy in Accra.

The new edifice located at Cantoments which would house the French Mission in Ghana is expected to be completed within 18 months.

The President was, particularly, enthused at the growing interest of French investors in Ghana and pledged his governments support to provide the enabling environment for these businesses to thrive.

In 2014, the Ghana France chamber of commerce was outdoored in Accra as one of the initiatives of economic development between the two countries and has since been the vehicle for a growing business relationship between the two countries and this the president acknowledged as a welcome development.

"Only last month - in February - Air France commenced its flight between Paris and Accra, bringing to170 the record number of French projects in our country," the President noted.
Touching on other areas of cooperation between the two countries, the President commended the French government for its continued assistance in the area of security both in Ghana and on the continental levels.

"France agreed to support the African Union in the development of its collective security systems particularly the African Standby force and pledged financial support as well as offered to train 15,000 African troops for peace keeping," he said.

He added that in recent times, Ghana and France have increased collaboration in security matters for the maintenance of peace and security through technical exchanges with the military and police service.

The President further commended the French for its role in helping the development of Ghana through assistance in other fields such as health, construction, telecommunication, among many others

"Our country continues to benefit from French support, in sectors such as health, rural water supply, agriculture, construction, telecommunication and industry for which we are grateful".

The French Ambassador to Ghana, Francois Pujolas, said the construction of a building for the Embassy was a symbol of the partnership between the two countries and the confidence the French government has in Ghana.