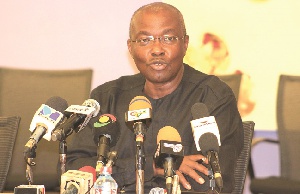 The World Bank Country Director for Ghana, Henry Kerali, has advised that government turn its attention to reducing food imports so as to revitalise the Agricultural sector, which can contribute in improving the economy.
He asked that government take steps to make the Agricultural sector even more attractive than it is today, by attracting investors with the right incentives.

Speaking at a stakeholders' forum organised by the American Chamber of Commerce, Ghana, on the topic 'Ghana's Economy: Moving from Stabilisation to Growth', Mr. Kerali said government must cut down on the high level of imports, especially with regard to food.

"We have seen a very high rate of imports, which is not good for the economy. Ghana, in 2016 alone, imported close to 2 billion dollars' worth of food – in a country that has plenty of land, very highly qualified people, and plenty of skills. Though some personnel are not trained, at least you have people who are able to operate machinery. So, why is this happening in Ghana? It's a clear example of the Dutch disease. This is something that needs to be addressed."

Mr. Kerali added that though growth in 2017 has actually been very positive due to very good macroeconomic management, food inflation however continues to be a concern.

"Food inflation however continues to be a concern, primarily because of the level of food imports; and if any of you, investors, are looking to invest, then the food sector is the right place to invest in as it has huge potential. I say this because there is a lot of money to be made in there, and there is also a lot of demand for food in Ghana."

He however praised managers of the economy for the country's economic growth in 2017, and described it as positive.
According to him, "I am not Ghanaian; so, I want to quickly say that I am not speaking on behalf of government or any party, but I am just talking about numbers. If you look at the quarterly growth rates for 2016 and 2017, there is quite a large difference. Inflation now is pretty close to the Bank of Ghana target of 8% +/-2%".

Meanwhile, government – through its flagship 'Planting for Food and Jobs' programme – is on a campaign to turn farmlands and backyards into a huge food basket that is expected to cut down the country's food import bill drastically.

Modelled along the lines of the highly successful 'Operation Feed Yourself (OFY)' programme of the 1970s, the initiative is expected to be driven by 200,000 farmers to be selected nationwide, as well as individuals willing to cultivate vegetables and other crops in their backyard.

The programme, which has already taken-off, also has tax incentives for companies – including breweries and food processing companies – that are willing to go into farming to feed their factories.

In 2017, maize, rice, soybean, sorghum and vegetables, as well as tomato, onion and pepper, were the five main crops expected to be concentrated on.

The campaign in 2017 was expected to yield food valued at GH¢1.3 billion.