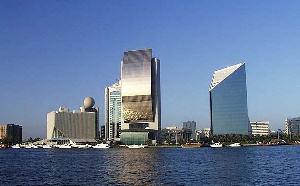 (Business Times, UK) -- It became famous as the Gold Coast, so rich in the precious metal that the Portuguese, Dutch and British squabbled for generations over colonial rights and the swath of land in West Africa. Now Ghana's fortunes could be transformed by "black gold" and what a British oil company hopes is its biggest discovery.
Tullow Oil disclosed yesterday that it may have found up to 800 million barrels of oil off the Ghanaian coast. It said that an exploration well close to the Mahogany field that it found in June had been a success, meaning that the prospect was far bigger than had been thought.

Tom Hickey, the company's chief financial officer, said: "By some distance, this is the largest thing that Tullow has ever been involved in."


Shares in the £3.3 billion group, which may enter the FTSE 100 next month, closed up 20½p, or 4 per cent, at 483p.
Although further tests still have to be carried out, the field has the potential to radically improve the Ghanaian economy. Most of the country's fuel is imported, with proven oil reserves at only 16 million barrels. About 20 per cent of Ghana's population is unemployed and a third live below the poverty line. The country's biggest export is cocoa, more lucrative although lower profile than its footballers plying their trade overseas, Michael Essien, the Chelsea midfield player, among them. Tourism to places such as Lake Volta, the world's largest artificial lake, is taking off, but the country, which is celebrating 50 years of independence this year, is still heavily reliant on the G8 debt relief programme.


Jon Marks, the editorial director of African Energy, said: "Ghana has made considerable progress, but remains a poor country. If the oil is well managed, this will be a big boost to the economy. However, in Africa there is always a worry over the tendency towards corruption. It's not just a cliché, the oil curse exists. Power goes to people's heads and money goes to Swiss bank accounts."

Tullow, which made Uganda's biggest oil discovery in February, said that it hoped to "rapidly appraise" the new field with its partners Anadarko, of Houston, Texas, and the Ghana National Petroleum Corporation. The first oil could flow by 2011.


Merrill Lynch, Tullow's broker, said that the Mahogany field appeared to be a "world-class discovery" containing between 400 million and 800 million barrels. It added: "The potential for material exploration success remains one of the corner-stones of our investment strategy and in this regard we highlight that Tullow remains better positioned than most."