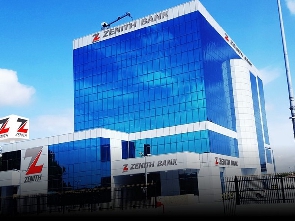 The Securities and Exchange Commission (SEC) has clarified that Zenith Bank Ghana Limited actively remains an operator in Ghana's securities market and banking sector.
This comes after SEC earlier issued a notice indicating that the Bank had voluntarily ceased to operate as a Trustee in the securities industry and the capital market in Ghana.

But SEC in another statement noted that, "the Bank continues to hold a Custodian license issued by the SEC under the Securities Industry Act, 2016 (Act 929) and remains an active operator in the Ghanaian Securities market and banking industry"

The Commission however added that Zenith Bank Ghana Limited has voluntarily ceased its Trustee services for Unit Trust Schemes in 2022.

Although SEC did not state the Bank's reasons to cease its Trustee services for one of its schemes, insider sources say the bank's decision has nothing to do with the Debt Exchange Programme of government.
See the SEC's second statement below:



MA/FNOQ