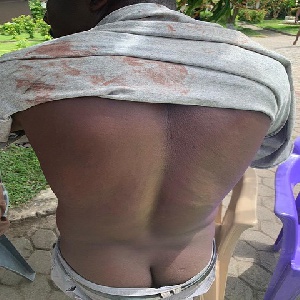 10 people have been arrested by the Kasoa Divisional police command for allegedly brutalizing the Safohen and the Odikroof Gomoa Anopansu in the Central region for stopping them from winning sand on their land.
According to the police, the 10 people allegedly attacked the Safohen and the Odikro at a village called Kwabena Andoh after the two stopped their illegal sand winning activities.

At a news conference held at Gomoa Anopansu, the Safohen of Gomoa Anopansu, Nana Sackey Appiah, revealed the sand winners called 30 of their friends who were armed with guns and machetes from Bonsuoku to perpetrate the act.

"They came in four taxis and a tricycle popularly known as "Aboboyaa" and started beating meat Kwabena Andoh. They inflicted cutlass wounds on my head. They hit me with the gun several times," he recounted.

Nana Sackey revealed, a scan at the Korle-Bu Teaching Hospital after the incident showed he has a spinal cord injury.

He further recounts the incalculable damage that has been caused crops and the landscape of the town as a result of the illegal sand winning activities.
"They leave huge gullies and destroy crops of residents. Their activities have polluted the rivers and water bodies in the community. It is an awful sight to behold," he recounted.

According to the Kasoa Divisional Police Command, 10 out of the 30 of the suspects have been arrested with the help of the Gomoa Fetteh Omankrado, Nana Kwesi Quansah popularly known as Kwesi Alhaji, after giving a tip-off to the Kasoa Divisional police command.

Sackey Appiah who explains he was nearly lynched by these illegal sand winners is calling on IGP to launch a thorough investigation into the matter and help arrest the rest of the suspects who wanted to kill him, his chief and three other family members.

Meanwhile, Odikro of Gomoa Anopansu, Nana Kwesi Essel II, commended the Gomoa Ojobi and Kasoa police patrol team for saving them in time from the hands of sand winners.