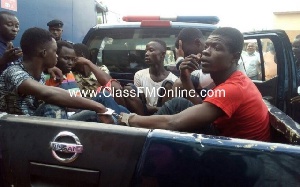 Five of the 12 persons declared wanted in connection with the Mahama murder have been arrested, the Ghana Police Service has said.
They are Bernard Asamoah aka Daddy, Bismark Asamoah aka Rasta, Sarah Mensah, John Boakye, and Kwame Awona.

Meanwhile, police on Monday June 19 also revealed that the first seven suspects who were remanded in police custody by a Cape Coast District Court on Thursday, June 1, 2017, would reappear today 19 June 2017.

They are: William Baah (assemblyman of Denkyira Obuasi), Bismark Donkor, Philip Badu, Kofi Nyame, Anthony Amoah, Kofi Badu, and Yaw Annor.

The late Major Mahama was lynched by residents of Denkyira-Obuasi in the Central Region where he was on official duty to combat illegal small-scale mining, popularly known as galamsey.

The angry mob mistook Major Mahama for an armed robber after a snail seller spotted a pistol on him when he was reaching into his pocket to pay for snails he had bought from her while jogging on Monday 29 May.

Government has promised a Trust Fund to help the family of the deceased with a seed fund of GHS500,000 with President Akufo-Addo also pledging some GHS50,000 from his personal coffers to the bereaved family.
He has been given a state burial with full military funeral traditions at the Osu cemetery.