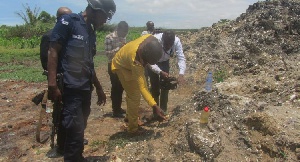 A policeman has been picked up by the Tema Regional Police for training suspected armed robbers at the Ramseyer Site at Community 3.
The police inspector, whose real name has been kept secret, is said to be the kingpin who recruits and trains people as armed robbers in the area.

Sources close to DAILY GUIDE told the police that the officer had been taking suspected criminals through weapon handling, aim shooting and defence shooting, among others, at the discovered shooting range in the farmland.

He is said to be in his late 40s and popularly known as Aboa Kese among service personnel in the Tema Region.

It is alleged that the police officer supplies supposed armed robbers with guns and ammunition after taking them through rigorous training in the bush.

Confirming the arrest to DAILY GUIDE, Tema Regional Police spokeswoman, ASP Juliana Obeng, indicated that the suspect is in police custody assisting with investigations.
According to her, the suspect was picked up based on information they received from some informants.

She claimed that the Criminal Investigations Department (CID) of the Tema Regional Police Command was handling the matter.

A team of police detectives on Monday visited the private shooting range as part of their investigations into the matter that has generated a row between some residents and the police as to whether the murdered person in the course of the police operation is an armed robber.

Police further discovered some used ammunition in a drain and some destroyed empty plastic bottles on a muddy hill where the suspects were said to be undergoing the training.

It was revealed that the suspected armed robbers position the empty bottles on the muddy ground and fire them.
On Saturday, August 20, 2016, police in Tema uncovered a shooting range at the Ramseyer Site that was said to be the training ground for suspected armed robbers.

The clandestine training ground became known after the police had shot dead a suspected armed robber and arrested two others who were said to have engaged a police patrol team in a shootout at the area.

A search conducted at the improvised shooting range, according to the police, revealed a shot gun dubbed, Trust Super Halcon, a total of 72 AAA empty cartridges and several empty plastic bottles that were said to have been used as targets by the suspects.